Overview
Administer and manage Cloudera Data Platform conveniently and consistently from a single interface
Administering, managing, and provisioning users, environments, and services used to require multiple tools. The Management Console streamlines and simplifies with a single pane of glass that lets you:
Manage CDP as well as legacy CDH and HDP clusters

Administer cloud and on-premises resources

Maintain users and their access

Choose your perfect interface: GUI, CLI, or SDK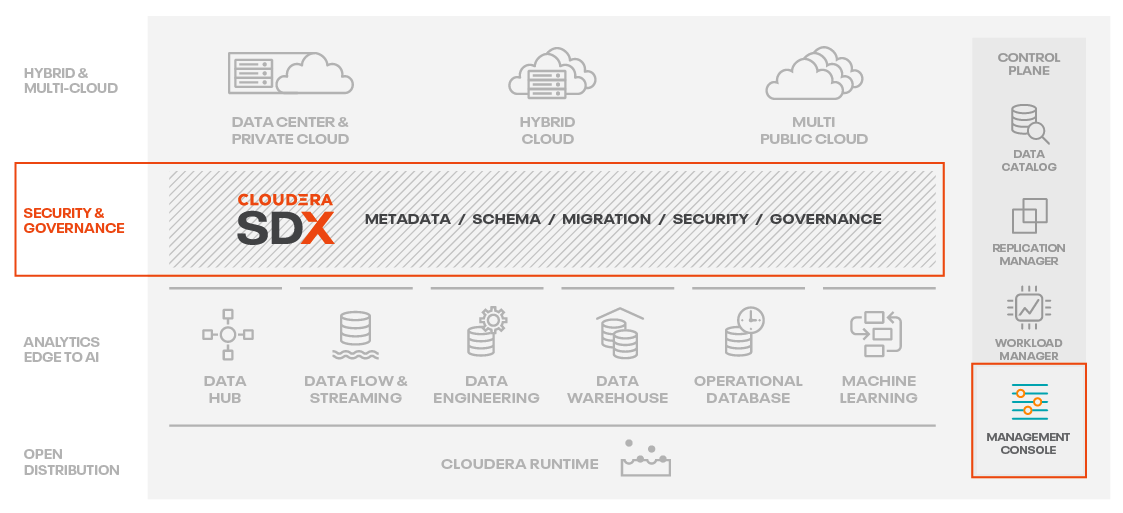 Register your cloud provider environments (such as your AWS and Azure accounts for different regions) once and then use them as needed to launch Cloudera Data Platform Data Hub clusters, Data Warehouse clusters, and Machine Learning workspaces within these environments.
Leverage your existing enterprise identity provider to onboard your users and assign them to CDP roles, groups, and resources to tightly control access to the platform components and services. Configure SSO for increased security and a perfect end user experience.
The web-based, graphical user interface is but one way to work with the Management Console. Use the Command Line Interface (CLI) to do it all from a terminal window and automate routine tasks, while with the Java SDK, you can integrate the full range of CDP services in your applications.
World-class training, support & services
Lean on our experts to help you build real-world solutions.
Learn, share and indulge in our community
Dive deeply into Cloudera products
Download your favorite products