Overview
Optimize performance and resource utilization across platform workloads with Cloudera's Workload Manager
Delivering great end-user experience while ensuring critical analytics needs and SLAs are met requires in-depth process visibility. Only Cloudera Workload Manager provides:
Complete workload visibility for performance tuning and migration

Usage-based insight for data model optimization

An understanding of query performance and improvements

Intuitive self-service insight for help with support platform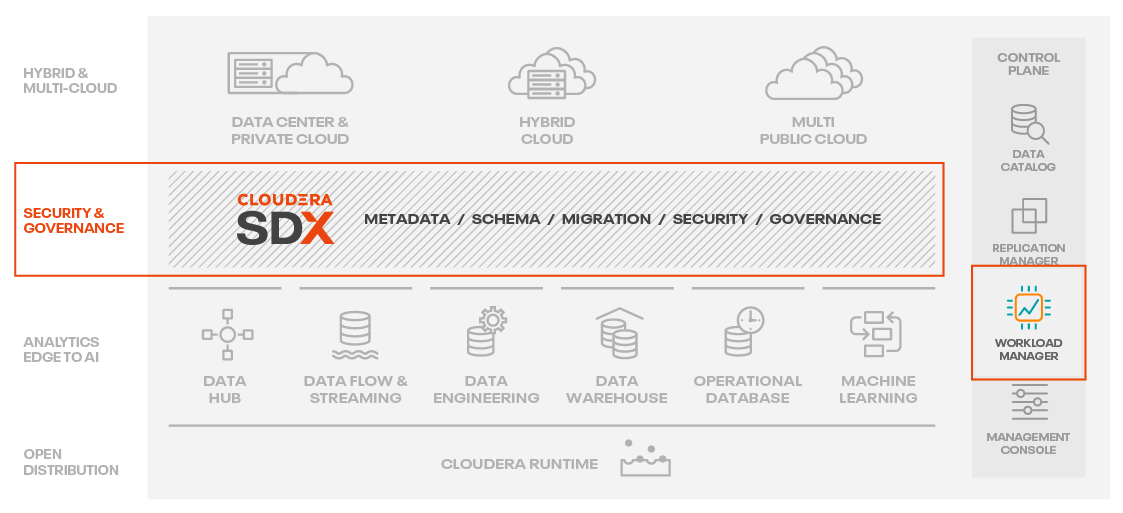 Focus your efforts when troubleshooting query issues for greater efficiency and improved uptime. With Workload Manager, you get complete visibility and prescriptive guidance for faster root cause analysis and troubleshooting for optimal efficiency at scale. Built-in guidance and optimization best practices help developers self-tune their queries to prevent rogues.
Consolidate your data marts and warehouses faster, without risking your existing workloads. Only Workload Manager provides unique insights to help you migrate SQL workloads from legacy data warehouses for the fastest time-to-first-success. Understand what's running today, prioritize your migration, and ensure a seamless transition.
Ensure predictability for both business-critical workloads and dynamic, self-service analytics. Only Workload Manager powers intelligent performance management for the needs of modern data platform workloads, while still meeting critical SLAs through comprehensive workload analytics and health checks.
Confidently and cost-effectively scale your multi-disciplinary analytics platform to take on new users, tenants, and workloads. Workload Manager helps you understand how existing resources are being used and helps to efficiently reallocate or scale them to lower your overall total cost of ownership across the platform.
World-class training, support & services
Lean on our experts to help you build real-world solutions.
Learn, share and indulge in our community
Dive deeply into Cloudera products
Download your favorite products