In a world where data is growing like never before and the pressure to perform increases daily, becoming a truly data-driven organization demands advanced analytics and machine learning brought to production faster than ever. Achieving that in your own data center is a challenge for organizations unwilling or unable to leverage public cloud.
Together, Cloudera and Red Hat offer a complete solution that delivers a cloud-native hybrid data architecture. With it, organizations can put data to work faster for more insight, reducing time to value. Cloudera Data Platform (CDP) Private Cloud on Red Hat Openshift combines cloud-like flexibility with data center control to deliver the complete range of analytics to power the data lifecycle in a safe and compliant manner to those that drive value from data: the end users.
Join this webinar as we cover:
What it means to become a truly data-driven organization
Why machine learning and AI alone are not enough for success
Which are the five key data center challenges organizations need to address for success
How CDP Private Cloud on Openshift drives cost efficiency, predictable performance and faster time to value
About Cloudera & Red Hat:
Red Hat and Cloudera offer a combined solution that helps enterprise companies securely manage the complete data lifecycle, putting data to work faster and reducing time to value. Cloudera Data Platform (CDP) Private Cloud on OpenShift aggregates and visualizes data to derive actionable insights in a secure, hybrid open source environment.
CDP Private Cloud is an enterprise data platform with next generation cloud-native hybrid data architecture, enabling on-premises deployments with the agility, flexibility and cost-efficiency of cloud architectures.  Red Hat® OpenShift® is a container platform for Kubernetes that can automate the provisioning, management and scaling of applications. The CDP Private Cloud next-generation hybrid platform combined with the Red Hat® OpenShift enterprise-grade Kubernetes container-based management tools consistently provisions and scales analytic workloads in minutes and allocates just enough resources to meet demand.
This Webinar is co-hosted in partnership with c and Red Hat. As a result, both Red Hat and Cloudera are collecting your personal data when you submit such information as part of the registration process above. For more information on each party's privacy practices, please see: Red Hat's Privacy Statement | Cloudera privacy policy below.
Red Hat Privacy Statement
Solutions Engineer CEMEA, Coudera
Kiryl Halozhyn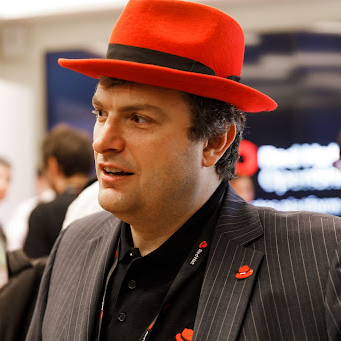 Solution Architect Lead Russia, Red Hat
Vladimir Karagioz