Overview
Cloudera Data Platform (CDP): The world's first enterprise data cloud
CDP makes it easy to say yes to any analytic workload from the Edge to AI all with enterprise-grade security and governance. 
Yes to the analytics your people want to use.  
Yes to operating on any cloud your business requires.  
Yes to the future with a cloud-native platform that flexes to meet your needs today and tomorrow.
Say yes to CDP, and say goodbye to shadow IT. CDP is not like anything you've seen before—It is the industry's first enterprise data cloud.
Cloudera Data Platform: A new approach to data
Easier, faster, and safer enterprise analytics and data management
CDP is an integrated data platform that is easy to deploy, manage, and use.  By simplifying operations, CDP reduces the time to onboard new use cases across the organization. It uses machine learning to intelligently autoscale workloads up and down for more cost-effective use of cloud infrastructure.
CDP manages data in any environment, including multiple public clouds, bare metal, private cloud, and hybrid cloud. With Cloudera's Shared Data Experience (SDX), the security and governance capabilities in CDP, IT can confidently deliver secure analytics running against data anywhere. CDP is a new approach to enterprise data, anywhere from the Edge to AI.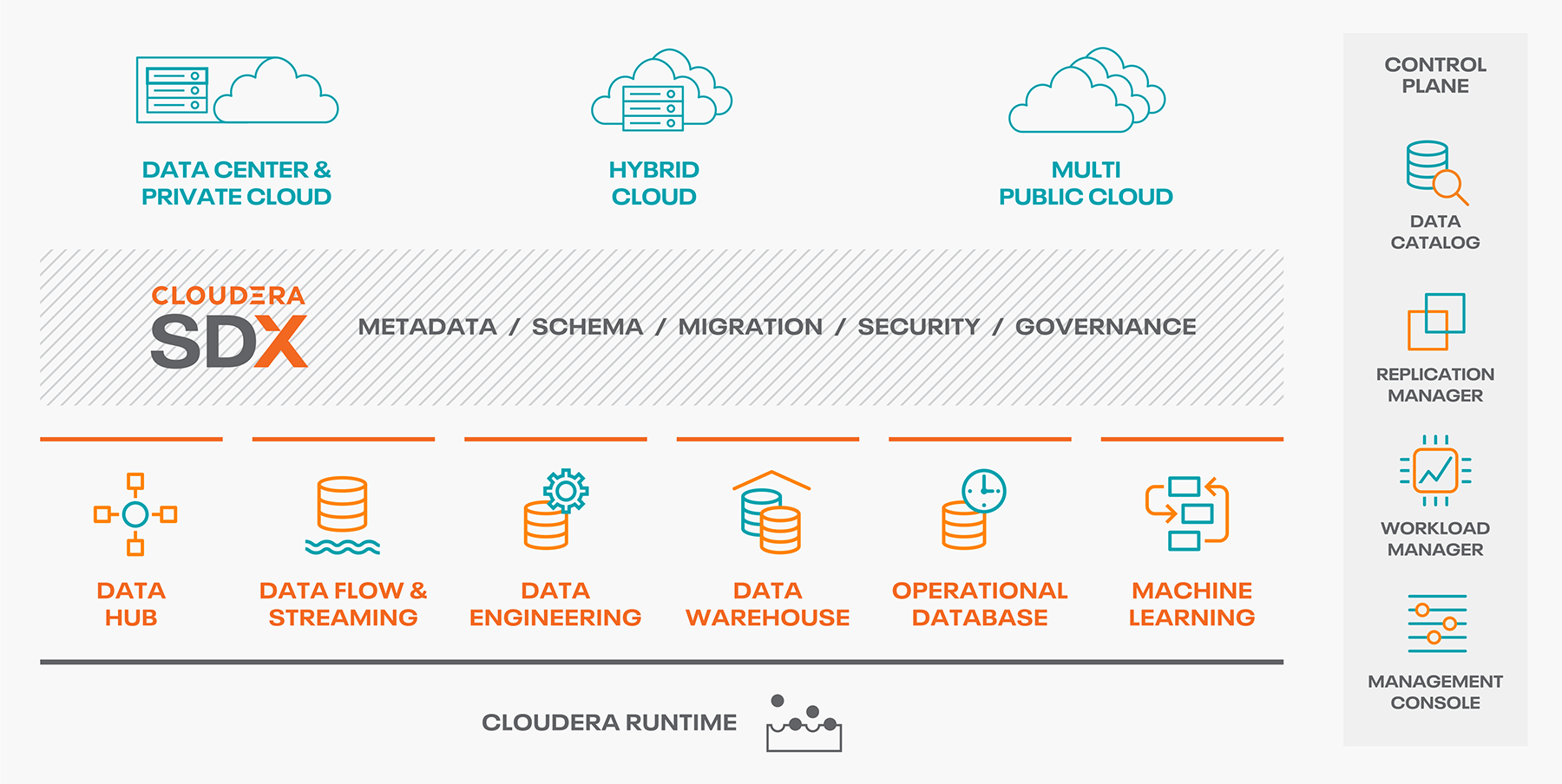 Hybrid & multi-cloud
CDP manages, controls, and analyzes data anywhere:
Multi-cloud: Organizations have the flexibility to use their cloud provider of choice
On-premises: For performance, cost, and security purposes, use data centers where that is the optimal infrastructure
Hybrid cloud: Consistent management and control across combinations of public clouds and on-premises for ultimate choice
Secure & governed
CDP's Shared Data Experience (SDX) technologies ensure an enterprise data cloud is secure by design:
Consistency: Security and governance policies are set once and applied across all data and workloads
Portability: Policies stay with the data even as it moves across all supported infrastructures
Self-service: Users can efficiently find, curate, and share data, enabling access to trusted data and analytics
Edge to AI analytics
CDP delivers easy-to-use analytics that work better together, supporting the most demanding use cases:
Complete: All functions needed to ingest, transform, query, optimize, and make predictions from data are available, eliminating the need for point products
Integrated: Unified analytic functions simplify the creation of big data applications and pipelines
Consistent: Standardized user experience across functions makes it faster and easier to analyze data
Cloudera Data Platform editions
Public Cloud services

Data Center software
Public Cloud services
Create and manage secure data lakes, self-service analytics, and machine learning services without installing and managing the data platform software. CDP Public Cloud services are managed by Cloudera; however, unlike other cloud services, your data will always remain under your control in your VPC. CDP runs on AWS and Azure, with Google Cloud Platform coming soon.
CDP Public Cloud lets you:
Control cloud costs by automatically spinning up workloads when needed and suspending their operation when complete 

Isolate and control workloads based on user type, workload type, and workload priority

Combat proliferating silos and centrally control customer and operational data across multi-cloud and hybrid environments
Data Warehouse
Create self-service data warehouses and the underlying compute clusters for business analysts
Machine Learning
Create machine learning workspaces and the underlying compute clusters for data scientists
Data Hub
Create data management and analytics clusters for diverse use cases and faster development of business apps
Adaptive scaling
Stop guessing at the performance requirements needed to handle a workload that can't yet be predicted. With CDP Public Cloud, capacity can be changed quickly, better matching the performance requirements of new workloads, speeding up deployment while effectively managing costs .
Intelligent migration
Improve the utilization of clusters suffering from highly variable jobs. CDP Public Cloud simplifies migrating these workloads, so they get the capacity they require when they need it. This frees up on-premises resources to handle steady, more predictable workloads, improving cost efficiency.
Burst to cloud
Quiet "noisy neighbors" affecting the SLAs of important applications efficiently and cost-effectively. CDP Public Cloud makes it easy to move a workload (the data, metadata, policies, etc.) to public cloud and provide the "right" amount of capacity, so SLAs for key workloads are quickly met.
Data Center software
The industry's most powerful, comprehensive data management and analytics platform for on-premises IT environments. CDP Data Center delivers an integrated suite of analytic engines spanning stream, batch data processing, data warehousing, operational database, and machine learning in support of a diverse set of use cases.
There are three key reasons to move to CDP Data Center:
Get something new, regardless of whether you currently use CDH or HDP

Innovate faster with unified distribution, which means more features and bug fixes, sooner

Expand to new

experiences

with the foundation for a new wave of containerized compute applications
Operational DB 
Extract real-time insights at low latency for data-driven, mission-critical applications
Data Warehouse
Modernize your analytics with high-concurrency, scale, and security
Data Science & Engineering 
Run advanced data engineering, exploratory data science, and machine learning at scale
Build on the latest technology
Innovate your data analytics core with Cloudera Runtime—the new, fully integrated open source distribution—and Cloudera Manager for complete security, governance, and control of your Edge to AI workloads.
Raise the bar on security
Achieve new levels of security with advanced authentication and authorization capabilities spanning attribute-based access control (ABAC), dynamic masking, fine-grained access, and more.
Alleviate resource contention
Add new applications and empower new teams easily with Virtual Private Clusters (VPCs) that decouple compute from storage to improve isolation and boost multi-tenancy.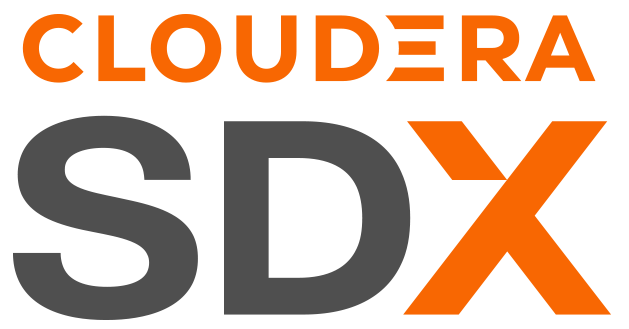 Enterprise-grade security and governance
Secure and govern platform data and metadata, and control capabilities with dedicated, integrated interfaces to manage it. Data security, governance, and control policies are set once and consistently enforced everywhere, reducing operational costs and business risks while also enabling complete infrastructure choice and flexibility.
Get up to speed with a free, on-demand training course that walks you through the specific ways that CDP enables both business teams and IT staff to be more productive and explains its capabilities for turning data into actionable insight. Hear, as well, from two customers who have successfully implemented CDP.
World-class training, support & services