Overview
Create and maintain safe and secure data stores for all supported storage architectures with Data Lake Service
Put a protective ring around your data, wherever it is stored, for safe, secure, and fully governed data lakes across your complete CDP estate. Data Lake Services provide the capabilities needed for:
Data schema and metadata information

Metadata governance and management

Data access authorization and authentication

Compliance-ready access auditing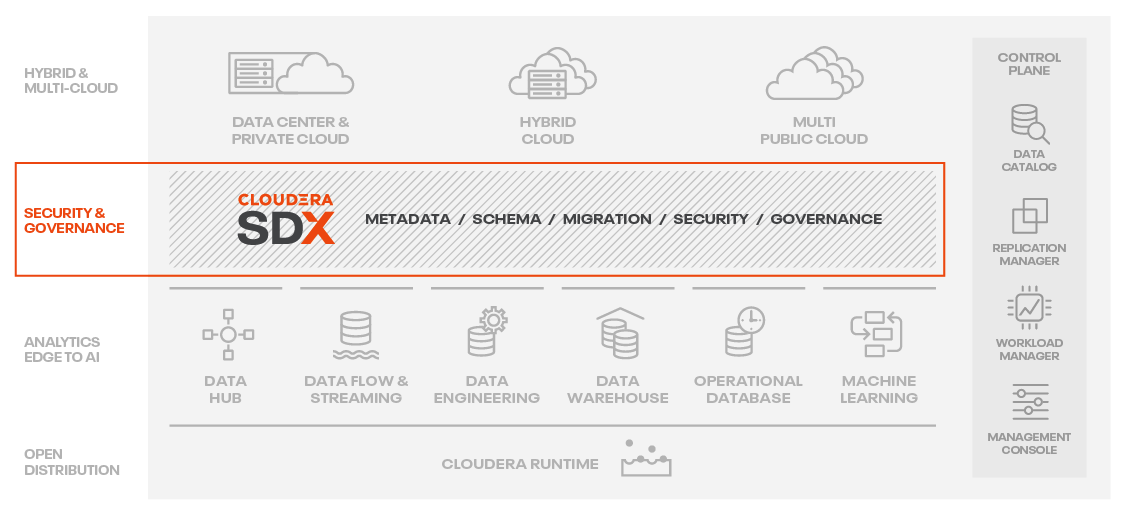 Capture and store all schema and metadata definitions automatically as they are discovered and created by platform workloads. Governance and data log capabilities turn metadata into information assets, improving its usability, trust, and value throughout the lifecycle. 
Standardize and enforce granular, dynamic, role- and attribute-based security policies. Prevent and audit unauthorized access to sensitive or restricted data across the platform. Encrypt data across the stack at rest as well as in motion and manage encryption keys.
Identify and manage sensitive data while also effectively addressing compliance requirements with unified data management operations, including metadata search, lineage and chain-of-custody auditing, and security as well as classification, profiling, and business glossary.
Provide end user single sign on convenience with Apache Knox delivering a protected gateway for access to not only Data Lake but all of Cloudera Data Platform user interfaces.
World-class training, support, & services
Lean on our experts to help you build real-world solutions.
Learn, share and indulge in our community
Dive deeply into Cloudera products
Download your favorite products