Overview
Ensure safe and governed data, wherever it moves, with security and governance policies tied to it
Migrating workloads between infrastructures or planning for disaster recovery means moving data. Replication Manager migrates data complete with its security and governance policies, delivering:
Complete backup and disaster recovery

Easy migration from legacy clusters to cloud deployments

Hybrid cloud flexibility through continuous synchronization

Convenient creation of development and test systems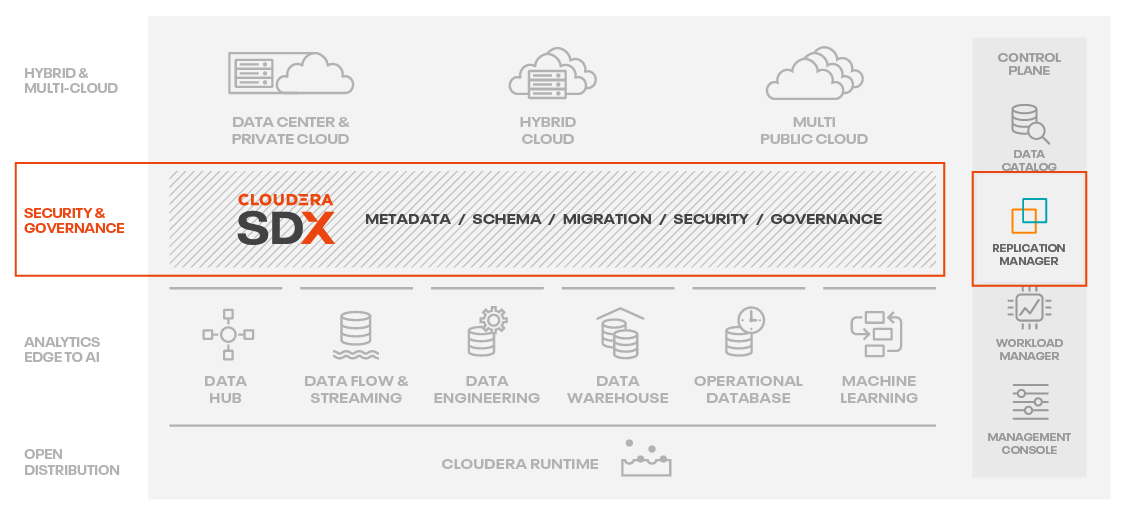 Replication Manager's intuitive wizard-driven approach makes setting up replication policies a breeze. Simply select the source system and data to replicate, point to the target environment, and decide on the frequency and resources to use. 
With support for legacy CDH and HDP clusters, Replication Manager lets organizations swiftly migrate to Cloudera Data Platform, not only replicating data but also translating security and governance policies as part of the move.
Replicate or migrate data with all its security and governance policies to deliver full or partial data center migrations, create authentic development and test environments, and migrate data and workloads dynamically between environments. Replication Manager is also directly integrated with the Workload Manager, enabling cloud bursting for Cloudera Data Warehouse workloads.
Track the status of replication policies (one-off or repeating replication jobs) as well as the health of environments (resources used) from a single dashboard, with complete insight into job performance and resource utilization across the full cluster estate. Detailed notifications help improve administrators' performance by focusing their attention on potential issues.
World-class training, support, & services
Lean on our experts to help you build real-world solutions.
Learn, share and indulge in our community
Dive deeply into Cloudera products
Download your favorite products