Solution overview
The ability to quickly access data and enable analytics to sustain growth in today's Industry 4.0 world is limited by legacy industrial systems. Challenges that enterprises have to overcome include accessing data from heterogeneous devices and systems, managing non-integrated OT (operational technology) and IT (information technology) systems, and addressing the lack of ability to scale IIoT (Industrial Internet of Things) solutions. With modern technology that liberates data, enterprises can make data available to the people, processes and tools that need it to succeed on their digital journey.
Litmus and Cloudera help enterprises collect, analyze, and take action on real-time data to improve both operations and IT decisions. Litmus is an industrial edge data connectivity platform that streams 'ready-to-use' data to the Cloudera Data Platform for analytics and machine learning. Litmus can send data either to Cloudera DataFlow at the edge or the Cloudera Data Platform in the cloud, and machine learning models can be deployed and run back at the edge via Litmus.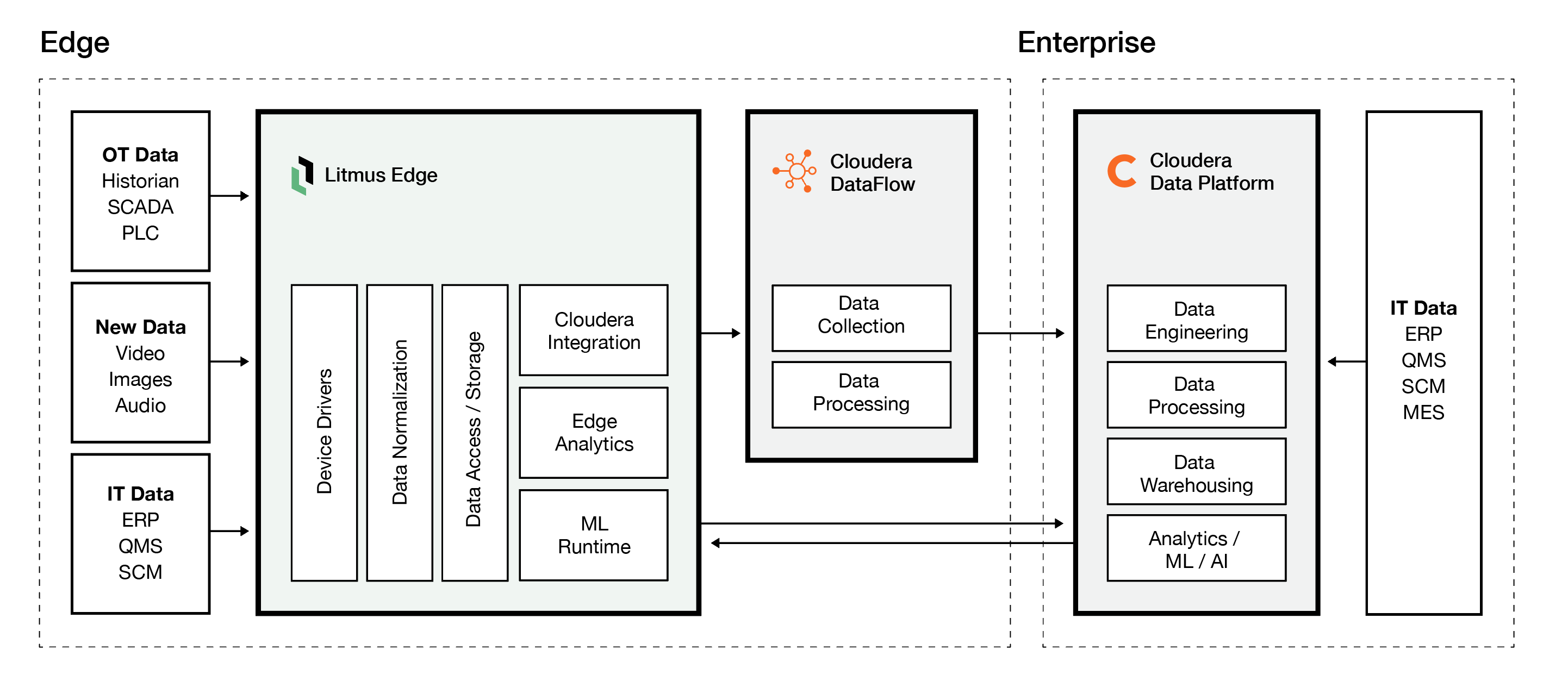 Litmus Edge Highlights
Litmus Edge is the only modern edge platform that connects to any industrial asset and provides a complete data picture to improve industrial operations. From data collection and analytics, to building and running custom applications, to data integration and management, Litmus is an all-in-one platform that is easy-to-use and deploy.
Key highlights 
Category
IoT/Connected Products 
About Litmus 
Litmus is the only flexible and scalable edge platform that provides the critical data connectivity needed to monitor, visualize, analyze, and integrate industrial data at scale. Litmus connects to every data source to provide a complete data picture for Industry 4.0 use cases ranging from Smart Manufacturing to Industrial IoT and Machine Learning. Customers include 10+ Fortune 500 manufacturing companies, while partners like Siemens, HPE, Intel, and SNC Lavalin expand the Company's path to market.
Learn more at www.litmus.io.
One Platform
Litmus-edge is an all-in-one platform that combines data collection, real-time analytics, an application marketplace and pre-built integrations to send data to any enterprise application.
Deploy Applications
With the ability to build, deploy and run pre-built and custom applications at the edge. Litmus enables dozens of use cases such as process control, traceability and vision systems
Edge Connectivity
With 250+ pre-built drivers. Litmus Edge connects to any asset out-of-the-box, and can process and structure data into a common format ready for use by edge and enterprise applications
Flexible and Scalable
Litmus-edge is easy to deploy with no programming required, is flexible enough to work alongside any existing OT or IT system and can scale to any number of assets or sites with ease.
Data Intelligence
Litmus offers pre-built data visualizations, analytics and KPIs for predictive maintenance, OEE and more. Data can also be shared with cloud and big data systems for machine learning 
Rapid Time-to-Value
Purpose-built for industry. Litmus Edge ships with 250+ drivers, pre-built analytics, applications and data integrations, enabling our customers to measure time-to-value in days.