Cloudera and Red Hat
Become the data-driven company you've always wanted to be with CDP Private Cloud on OpenShift.
Cloudera Data Platform (CDP) Private Cloud on OpenShift
Joint Solution Overview
Red Hat and Cloudera offer a combined solution that helps enterprise companies securely manage the complete data lifecycle, putting data to work faster and reducing time to value. Cloudera Data Platform (CDP) Private Cloud on OpenShift aggregates and visualizes data to derive actionable insights in a secure, hybrid open source environment.
CDP Private Cloud is an enterprise data platform with next generation cloud-native hybrid data architecture, enabling on-premises deployments with the agility, flexibility and cost-efficiency of cloud architectures.  Red Hat® OpenShift® is a container platform for Kubernetes that can automate the provisioning, management and scaling of applications. The CDP Private Cloud next-generation hybrid platform combined with the Red Hat® OpenShift enterprise-grade Kubernetes container-based management tools consistently provisions and scales analytic workloads in minutes and allocates just enough resources to meet demand. With the joint solution, enterprises can:
Empower every employee to drive value from data through an intuitive single pane of glass. 

Create enterprise-grade custom environments and keep control of your data while realizing the cost advantages of an on-premises private cloud environment. 

Enable unlimited scalability, with the flexibility to move your data to any platform, including hybrid environments, with zero vendor lock-in.

Deliver a consistent experience across your data practitioners and developers with a modern environment that future-proofs your investment.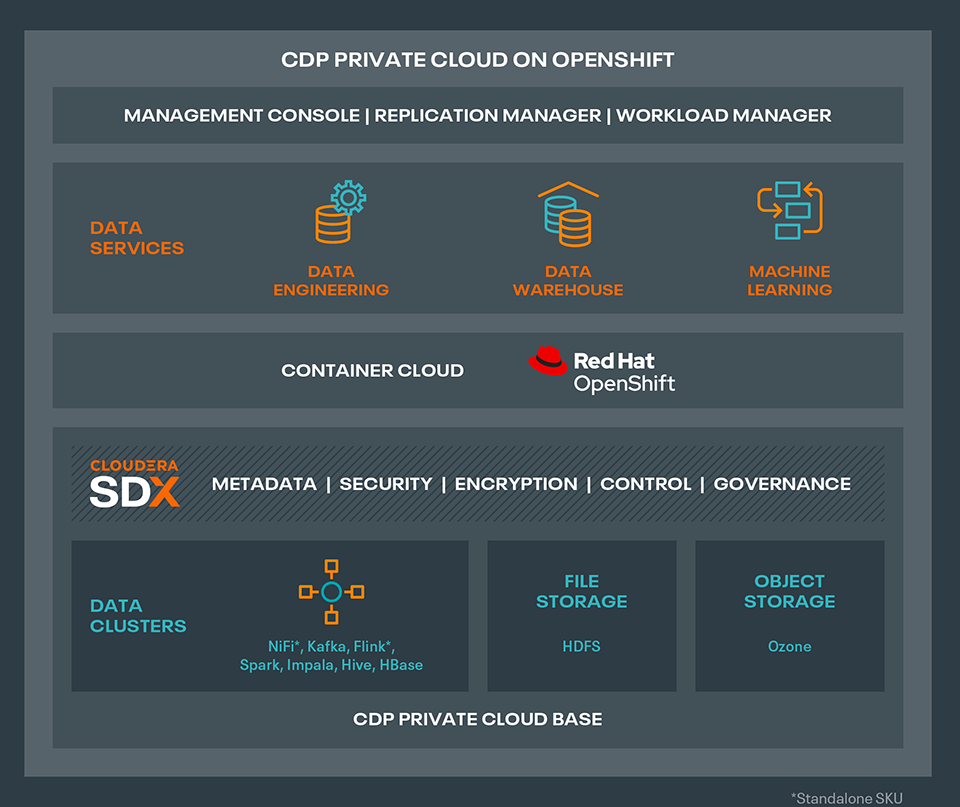 Key highlights
Category

Integrated Software Vendor (ISV)
Website

Partnership Highlights

Unique solution that addresses infrastructure needs across on-premise, hybrid, and multi-cloud environments to meet enterprise-level analytics, data strategy, and machine learning requirements.

Trusted advisors with expertise in open source enterprise-grade Kubernetes and data analytics.

Deep experience in assisting customers to quickly spin-up environments that meet their unique demands around analytics, testing, production, and full-scale implementation.

Expertise in deploying the complete data lifecycle within a private cloud environment.

Delivers cloud-like capabilities with the cost efficiency of owning your own infrastructure.

With CDP Private Cloud on Red Hat® OpenShift®, you get the security of a private cloud environment with maximum value and lowest Total Cost of Ownership.
Learn More
About Red Hat
Red Hat is the world's leading provider of enterprise open source software solutions, using a community-powered approach to deliver reliable and high-performing Linux, hybrid cloud, container, and Kubernetes technologies. Red Hat helps customers integrate new and existing IT applications, develop cloud-native applications, standardize on our industry-leading operating system, and automate, secure, and manage complex environments.