Overview
Find, curate, and audit your data across all infrastructures  and generate relevant insight with Data Catalog.
Discover relevant data, control sensitive information, and track lineage and audit access to build confidence in your data and value wherever and however it's used. Data Catalog does all this and more across the platform, allowing you to:
Understand, document, and monitor data and its use

Observe regulations or standards for relevant data

Implement organizational and technical data protection measures

Collaborate and share data responsibly with full insight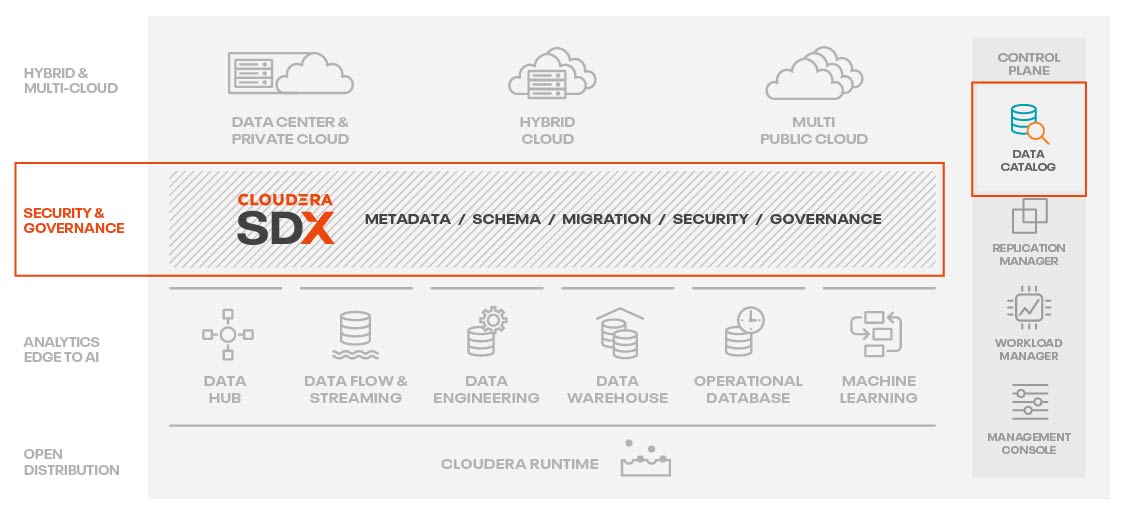 Users can organize heterogeneous data from across the platform in logical collections to support business definitions or use cases. Quick to classify, share and search, collections capture corporate knowledge and increase efficiency in finding the right data from which to gain insight to address business challenges with.
Understand your data, its makeup and meaning, anywhere it is ingested or created by the platform. Data profiling discovers key metrics and automatically detects as well as classifies sensitive and personal information. The result is complete data insight and a solid basis for classification-based protection.
Increase confidence in data by capturing its origins and highlighting the processes that created it. Prevent unwelcome surprises by knowing how data is being used, how it propagates, and which processes and data sets are impacted should it change.
Data assets can be categorized and curated for easier discovery as well as advanced security and governance use cases, like attribute-based access control (ABAC). Automatic propagation of classifications ensures compliance rules are consistently applied also for derived data. 
Dashboards and metrics provide insight into how assets are used, alerting data stewards to potentially unsafe or unauthorized use of data. Insights include access patterns and trends for assets, asset types and users with customizable alerts quickly directing attention where it is needed.
Put data in business context with the business glossary and help users find the right information using natural language and business terminology. Categorized terms from the hierarchical glossary vocabulary give business meaning to assets throughout the platform.
World-class training, support, & services
Lean on our experts to help you build real-world solutions.
Learn, share and indulge in our community
Dive deeply into Cloudera products
Download your favorite products