Atos CODEX Data Lake Engine

Solution overview
Codex Datalake Engine is an end-to-end data management and security platform with an optimal scalability and cost-effectiveness, certified by Cloudera.
It is a preconfigured appliance based on BullSequanaS hardware platform, scalable, easy-to-use. The full virtualization enables cost-effectiveness. As a result, organizations spend less time installing, tuning, operating, troubleshooting, patching, upgrading, and dealing with integration, adoption of technologies and scale-related issues.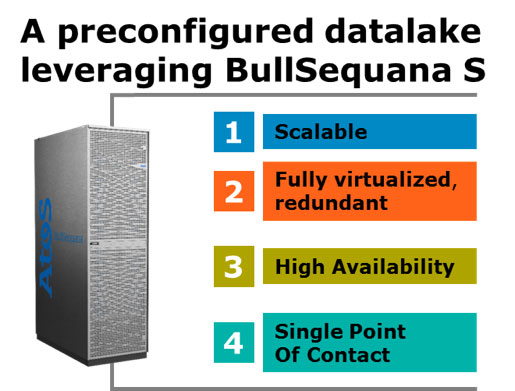 Organizations can also use Codex Datalake Engine as the data platform to build their private and hybrid clouds.
Codex Datalake Engine manages the entire data life-cycle, from data ingestion, data cleansing, data blending, data discovery, audit, data lineage and policy enforcement. Codex Datalake Engine provides users with a full visibility and control over data.
Organizations are very concerned with data security, sovereignty and protection. With Codex Datalake Engine Engine, all data is stored on site and organizations keep full control over their data and its lifecycle as well as a full control over the infrastructure, the applications and the operations, enabling more compatibility and thus minimizing the risk of failure.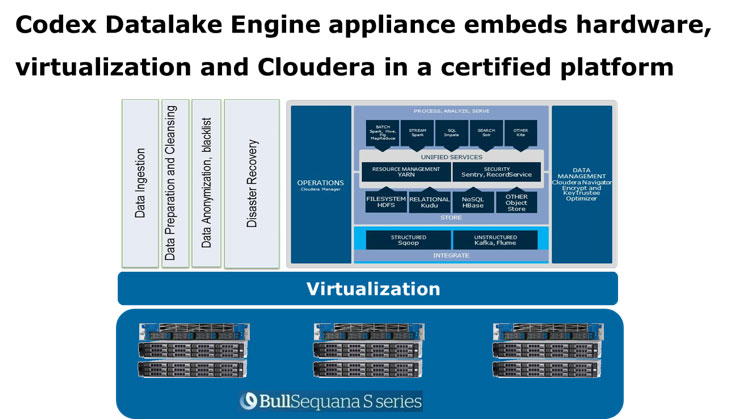 Positive business outcomes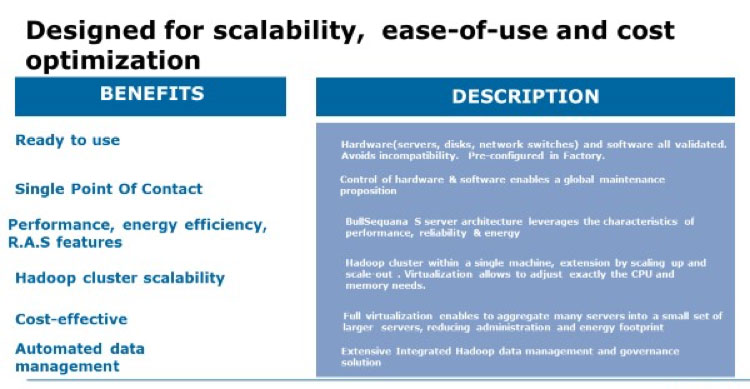 Required capabilities
Data Engineers, Data Scientists and Hadoop Administrators to manage the ATOS Codex appliance
Could be either deployed in owned DC or in ATOS DCs
Metrics and proof points
Reduced time to deploy/setup
Differentiators
Pre-configured solution, scalability, cost-effectiveness, ease-of-use
Addresses concerns of CDOs, compliance groups and data scientists
Designed for sensitive data
Atos expertise in data management and security, analytics and AI
Single Point of Contact and high support level provided by Atos teams
Key highlights
Category
Modernize Architecture
About Atos
Atos is a European IT services corporation with its headquarters in Bezons, France and offices worldwide. It specializes in hi-tech transactional services, unified communications, cloud, big data and cybersecurity services. Atos operates worldwide under the brands Atos, Atos Consulting, Atos Healthcare, Atos Worldgrid, Bull, Canopy, Unify and Worldline.