Big Data as a Service - CenturyLink
Solution overview
CenturyLink's Big Data as a-Service not only provides potentially unlimited resources in a high-performance computing cluster, but simplifies management with the assistance of a dedicated team of Data Science experts and Managed Cloudera Hadoop.

We begin the engagement with our Data-to-Decisions Workshops, where our expert Big Data Architects collaborate with the customer's management team, aligning business and technology objectives to deliver a pilot data platform scope and Phased Roadmap.

The solution, with storage, processing and management components is then deployed on Bare Metal Cloud servers: a flexible, efficient, scalable environment for processing data. All delivered via CenturyLink secure network and infrastructure.
Advanced analytics consultation
Data-to-Decisions Workshops - The team guides clients every step of the way – starting with our Data-to-Decisions Workshops leveraging proven methodologies to:
Help client leadership teams effectively align business and technology objectives
Prioritize use cases identified as business critical
Perform up-front needs assessment and requirements definition
Delivery of Phased Roadmap, TCO, Value Realization and Change Management Plan
Dedicated Team of Experts - To ensure efficiency and alignment with each customer's unique business and IT objectives, CenturyLink assigns a dedicated team of experienced Data Scientists and Big Data Architects to facilitate each engagement from concept through implementation and data analytics.
Data Science Practitioners with Advanced Degrees and Domain & Industry Expertise
Vast Experience with Industry Models & Methodologies
Access to Advanced Visualization, Modeling & Automation Tools
60+ Packaged Industry Use Case Implementations
Proven Success in Rapid Deployment of Solutions
Compute and storage is isolated to ensure a high level of performance for compute-intensive workloads or "batch" jobs needing bursts of compute power for a short time.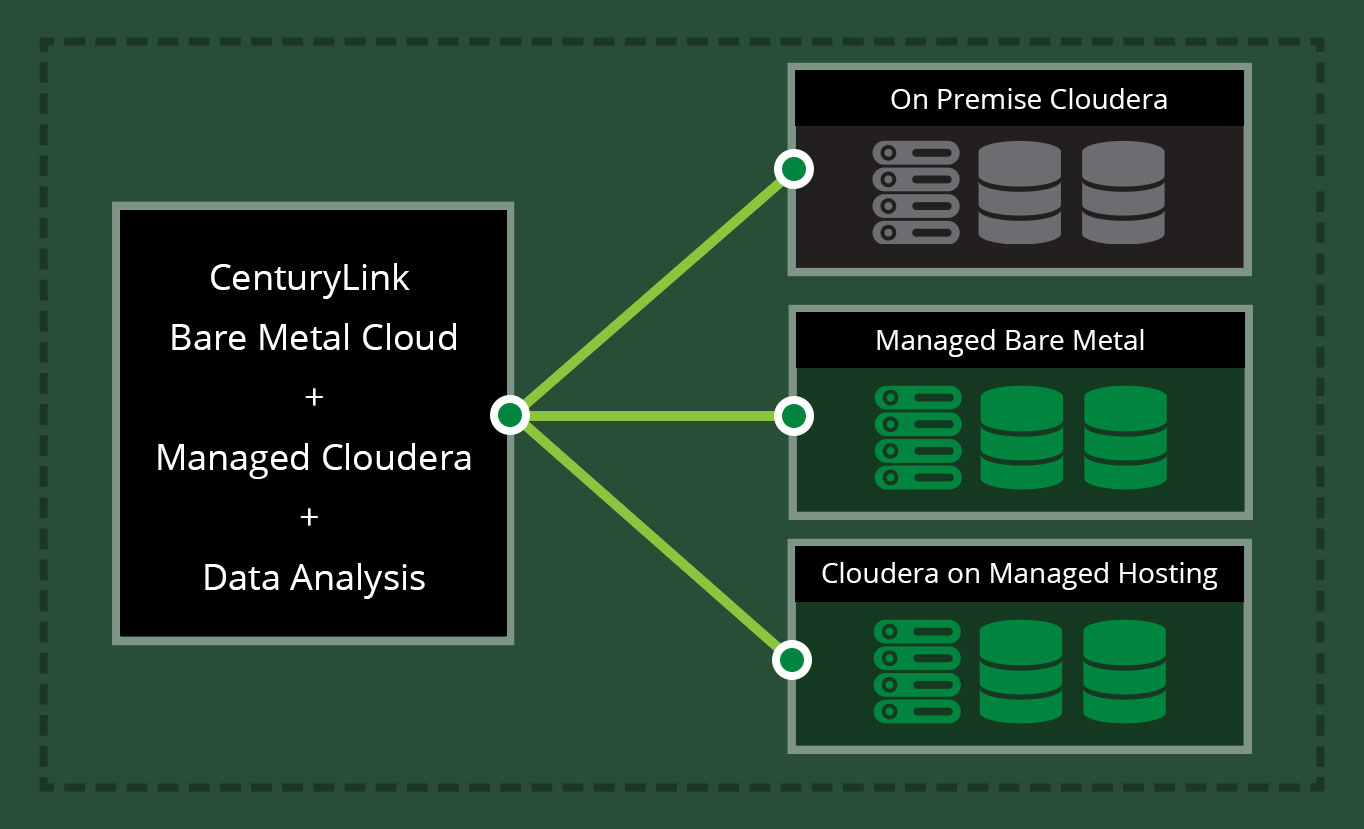 Key highlights
Category
Modernize architecture
Hosting

Solution deployed on CenturyLink Bare Metal Cloud servers
20 core (2x10), 256 GB RAM, SSD & HDD; Intel Xeon E5-2650 v3 @2.3 GHz
2x 800 GB Raw SSD | 12x2 TB Raw @7200rpm | 24 TB JBOD Configurable
License
Maintain licensing and software assurance with Cloudera

Installation

Prepare server for application service (OS specific parameters)
Install & QA Hadoop software, Cloudera management tools & monitoring
Connectivity
Configure connectivity for host headers, TCP, IP's and SSL
Administration

Account Access
Server, Cluster and Network monitoring
Restart/Stop/Start services
Update managed servers with recommended security patches, minor updates and hot-fixes upon customer request
Perform node repair/extraction/insertion without impacting customer use