Data Workload Optimization

Solution overview
DXC Data Workload Optimization Services
Our DXC Data Workload Optimization Services consist of assessment and implementation services that address pain points to improve functionality, cost and performance. By assessing your unique challenges, we determine the best approach for mapping existing and new workloads — by business priority, value and complexity — and for deploying solutions in the cloud, on-premise or in hybrid environments. Our experts use diagnostic tools to characterize current and future-state workload performance to maximize your results. Based on your specific assessment results, DXC provides recommendations that are tailored to your business environment.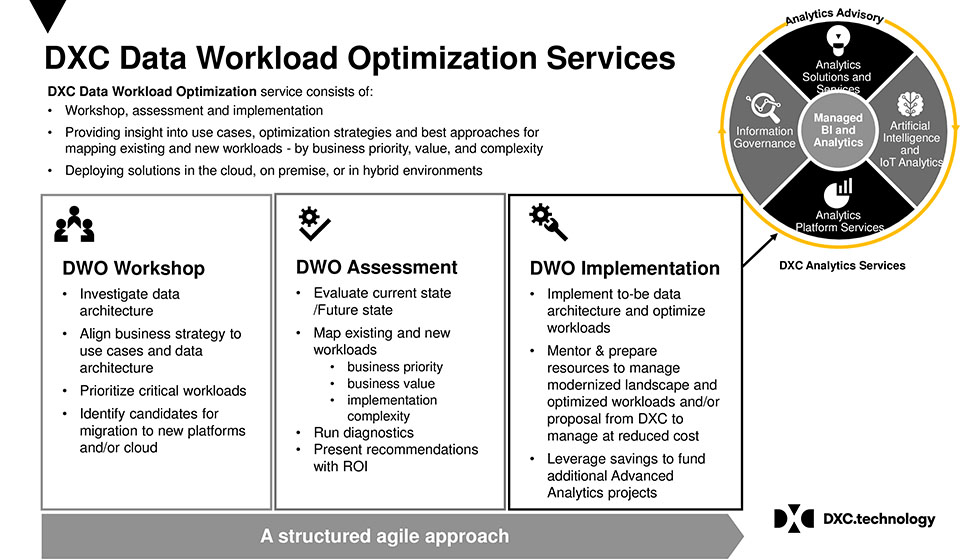 Our services
Identify, scope and migrate key workloads
Leverage existing investments and legacy databases, rationalize workloads, and augment your technology to modernize your platform
Enable analytics workloads requiring high CPU, memory and storage resources to run without disrupting your business, while providing the BI you need
Enable advanced analytics and industrialized AI applications
Employ flexible delivery — on-premise, in the cloud or hybrid
Reduce total cost of ownership
Lower administration costs by as much as 80 percent
Lower storage costs by as much as 90 percent
Benefits to your organization
DXC Data Workload Optimization Services can help your business dramatically reduce the total cost of ownership of your EDW environment, with up to 80 percent lower administration costs and up to 90 percent lower storage costs — while expanding your data and analytics capabilities. Our approach helps you improve operational service levels for availability and response times, enabling you to focus on business objectives, not IT-related issues.
Our services improve analytical results and insight quality, enabling you to analyze more A and B scenarios as well as more data. Avoid data sampling for statistical analysis by having efficient access to much larger data sets than a traditional EDW environment. Benefit from easy access to open source algorithms, machine learning and AI tools. By modernizing your technology, you respond quicker to new business requirements such as on-demand analytics applied to years of historical data, what-if analyses for new products, calculations for merger or acquisition scenarios, and responses to regulatory requests. 
Our analytics practice helps you optimize workloads in a variety of environments: on-premises, in the cloud or hybrid. Regardless of the environment or industry application, you can manage information efficiently and easily to drive business growth. DXC ensures that your business can rely on open source technology to enable high-performance improvements at the right price. 
Positive Business Outcomes
Agile, on-demand EDW performance enhancements. A U.S. financial institution achieved significant performance enhancements and database administration support cost reduction.
Mitigation of legacy EDW obsolescence by introducing new technologies. A U.S. telecommunications giant addressed capacity expansion by transitioning growing workloads to alternative, modern database management technology tools.
Skilled resources to integrate new open source and commercial technologies. An Australian government agency transitioned from a proprietary technology stack to a lower cost, open architecture.
Differentiators
DXC Data Workload Optimization Services are designed to help you quickly identify key use cases and problem workloads in your legacy data environment. Our experts define a high level data strategy and architecture to address your important functionality, performance and cost challenges including: 
Agile, on-demand EDW performance enhancements. 
Mitigation of legacy EDW by introducing new technologies.
Skilled resources to integrate new open source and commercial technologies. 
Key highlights
Category
Modernize Architecture
About DXC Technology
DXC Technology is the world's leading independent, end-to-end IT services company, serving nearly 6,000 private and public-sector clients across diverse industries and over 70 countries. The company's technology independence, global talent and extensive partner network deliver transformative digital solutions that help clients harness the power of innovation to thrive on change.
Required Capabilities
For Data Workload Optimization the required capabilities are: modernized enterprise data architecture that provides cost effective insights from new data sources, access to advanced analytics functionality to derive real-time business insights and access latest ML/AI algorithms. While dramatically reducing the total cost of ownership of legacy EDW environments.