Informatica Customer 360 Insights
Solution overview
Delivering a 360-Degree Customer View with Informatica and Cloudera
Organizations need a holistic 360-degree view provided by a strong foundational and scalable data management solution that delivers actionable insights to operational teams. Access to comprehensive, trusted, timely information is instrumental in empowering users to be more effective in their specific business function.
Informatica complements Cloudera and offers a customer 360 solution to maximize the value of business data. By combining structured and unstructured, traditional and big data, our joint solution platforms help deliver tangible business value while providing enterprise-grade scalability. With our deep technical integration, complemented by subject matter expertise across industries, we deliver the best-of-breed platforms that help facilitate educated decision-making that leads to business efficiencies and growth.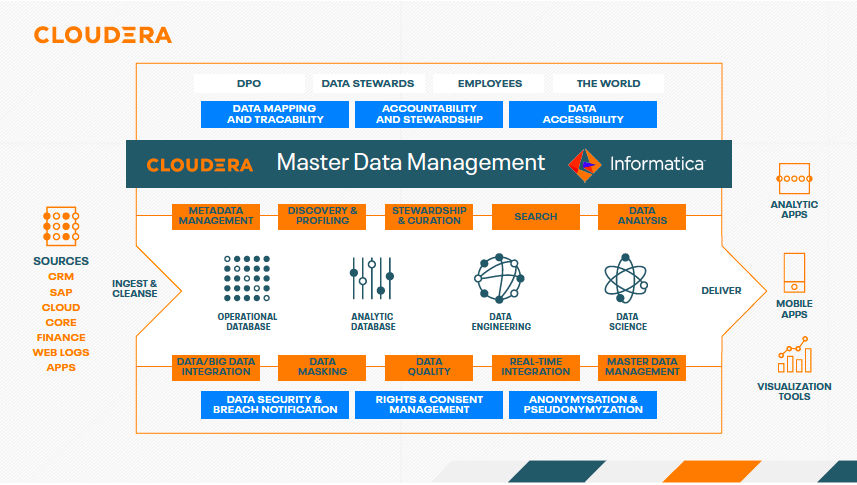 Leverage Best-of-Breed Data Management Platform
Informatica's Customer 360 Insights allows organizations to link business- critical data about customers to their behavioral, transactional, and interaction data. By layering demographic, geographic, and psychographic data on top of those associations, organizations can build a complete 360-degree view of customers and their relationships.  Such a view serves as the foundation to drive new insights and addresses the most complicated questions businesses ask today.
Customer 360 Insights can help enhance marketing and analytics performance by providing powerful, actionable, next-gen customer views at any scale. Marketers and other business users can uncover the true worth of existing relationships with customers and predict the next best action or offer.  Designed to run natively on Cloudera Data Platforms, Informatica Customer 360 Insights combined with the Cloudera Enterprise Distribution of  Hadoop (EDH)   allows users to explore big data relationships instantly, combine all data sources, as well as process transactional data that is incrementally updated. In addition, users can leverage the real-time search capability of all the data within the EDH.

Key Benefits 

Real-time discovery and search

Faster segmentation

Relationship and influencer analysis

Graph representation of relationships

Secure web and real-time API interfaces
Key Features

Reveal hidden value in your data

Visually explore data relationships.

Improve big data analytics

Optimize big data management
Key highlights
Category
Data Management
About Informatica
Digital transformation is changing our world. As the leader in Enterprise Data Cloud, we're prepared to help you intelligently lead the way. To provide you with the foresight to become more agile, realize new growth opportunities or even invent new things. We invite you to explore all that Informatica has to offer and unleash the power of data to drive your next intelligent disruption. Not just once, but again and again.
Solution Highlights
best-of-breed platforms, for any deployment type: on-premises, hybrid or multi-cloud

Any data source, any format, any size, into Cloudera

Batch or real-time processing

Engine-agnostic execution on Cloudera

Intelligent Metadata-Driven approach powered by CLAIRE