Lily™ Customer Data Platform

Solution overview
Lily™ is the next generation customer data platform (CDP) from NGDATA that has the power to transform the customer experience by putting people at the heart of your business.
Lily™ is a single solution to power your organization's customer experience by integrating data across all channels, generating insights from analytics and helping you make better decisions.
Lily™ enables you to solidify customer lifetime value by building a holistic and individual customer view with insights on historical and real-time customer interactions from all sources.
Customer data is analyzed and contextualized in real-time, enabling marketers to react to the behaviors of each individual; delivering on customers' expectations for personalized experiences. This customer-centric approach ensures a lasting impact on improved sales, customer loyalty and return on marketing investment.
Lily™ integrates quickly into your enterprise technology architecture and delivers results within a period of a couple of weeks, not months.
 
There are five core functions of Lily™:
Data Integration & Management
Lily™ collects and stores data from all sources, structured or unstructured, online and offline. Additionally, Lily™ fully integrates with existing analytics and reporting tools, as well as a growing ecosystem of marketing automation and channel platforms.
Customer DNA
Customer DNA is the core of Lily™. This DNA represents the full customer understanding - including contextual and behavioral - for each individual customer. Attributes, which make up a Customer's DNA, are scored, calculated, and updated in real-time. This continuous learning, across 1000+ attributes, ensures every customer experience is relevant to each individual.
Lily's Customer DNA continuously learns from behavior to deliver relevant, useful and engaging experiences.
Personalization
Lily™ powers personalization with attributes available in each Customer DNA profile. Brands can leverage this data to deliver hyper-personalized video content using Lily™ SmartVideo. Also maximize targeting and interaction precision with Lily's Next Best Offer capability, which scores and ranks eligible offers for every customer in real-time.
Omni-Channel Orchestration
Lily™ orchestrates relevant and personal experiences across both physical and digital channels. Lily™ supports both trigger-based outbound communications, as well as real-time inbound marketing with request & response capabilities. Lily's rule engine and real-time alert features serve integrated Channel Applications with up-to-date, actionable customer insights.
Real-Time Analytics & Machine Learning
Lily™ becomes smarter over time with every new customer interaction. Through machine learning, Lily™ understands the context behind customer behavior to anticipate their next move and deliver automated customer experiences.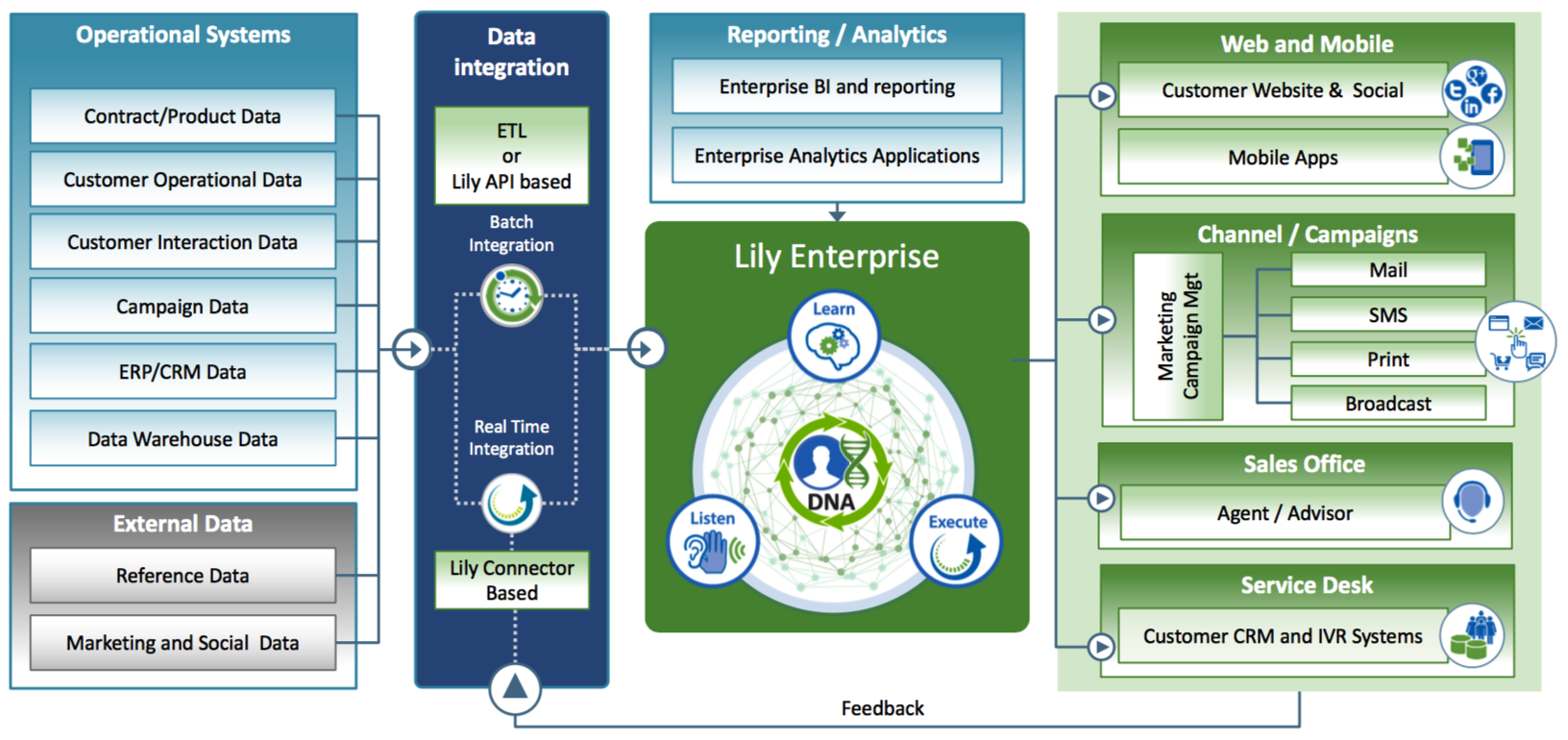 Positive Business Outcomes
Using predictive models and machine learning, Lily automates much of what used to be impossible to accomplish for a brand. Lily intelligently selects - for each individual customer - what the most attractive and relevant offer would be, delivered over the right channel, on whichever device the customer is most likely to engage with. This results in rich personalization with zero guess work on the marketer's part. Marketers who leverage the best of what Lily has to offer get to spend more time building fun and engaging experiences, and optimizing those experiences to deliver the most value to both their brand and their customers.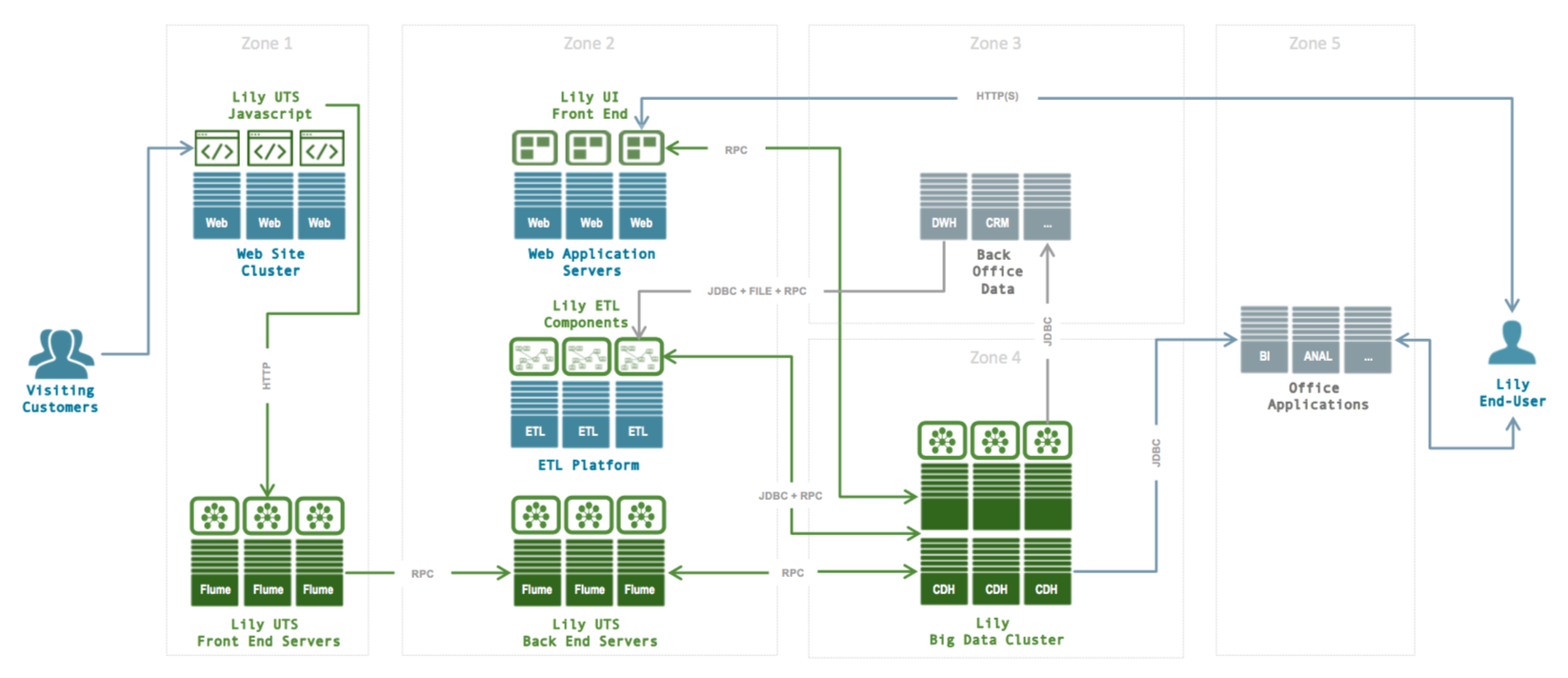 Software and Hardware recommendations
The following table contains the recommended software configuration: 
Server Role

OS

Big Data/SW Components

Lily Modules

Lily UTS Front-End Servers

Linux
    • CentOS   
    • Linux
Flume (HTTP endpoint)

Apache for static JavaScript resources
Lily Enterprise Connects
    • UTS Front-End
      Components
 

Lily UTS Back-End Servers

Linux
    • CentOS
    • Linux

Flume (processing pipeline)

Lily Enterprise Connects
    • UTS Back-end
      Component
    • Identity matching
    • Augmentation

Lily UI Front End Servers

Linux
    • CentOS
    • Linux
Apache (static resources)

Tomcat (CAS Authentication)

Jetty (REST services)

Lily Enterprise UI

Lily Big Data Cluster Servers

Linux
    • CentOS
    • Linux

Hadoop, HBase, Kafka, Zookeeper, Solr

Lily Enterprise DNA, ML Engine, Model Library, Rules Engine
The following table contains the recommended hardware configuration:
Server Role

MEM

CPU

HDD

UTS Front-End Server

32GB

Quad core

Small (10GB)

UTS Back-End Server

64GB

Quad core

Medium (100GB)

Lily Front End Server

64GB

Quad core

Small (REST / web resources)

Lily Back End Server

64GB

4 x quad core or

2 x eight core

Based on data volume requirements

(x TB) and # of HDD = # of CPU cores
The Lily solution is unique in its approach to enabling its clients' data-driven customer-centricity. The combination of five key differentiators is what sets Lily™ apart in the industry:
People-Based: Lily Enterprise drives personalized customer experiences by building a unique profile of each customer – called 'Customer DNA'. This customer profile allows clients to reach 'real people' as opposed to segments or inferred audiences, because Lily Enterprise does not generalize data.
Full Data Density: With roughly 1000 dynamic attributes called 'metrics', Lily Enterprise gives meaning to behavioral and factual data from all data sources, across users' online and offline journey, in real-time and throughout time. The result is a complete and atomic profile of the individual. The density of data allows accuracy in targeting and engagement, allowing clients to truly know their customers and engage in relevant dialogues.
AI-Driven: Lily Enterprise becomes smarter over time with every new customer interaction. With machine learning, Lily understands the context behind customer behavior to anticipate their next move. This means Lily provides Clients with the ability to respond to and anticipate its customers' needs, and create the illusion of a personalized relationship. Because Lily's smarts are metrics within the Customer DNA, increasing the sophistication of the decisioning can be achieved without 'rules-based complexity'.
Real-Time: Every customer interaction is tracked in real-time and Customer DNA metrics are rescored and recalculated, creating an always current Customer DNA profile with immediate insights and actions towards predicting customer behavior. This means Lily's Clients are ready to respond to every customer with context and relevancy.
Connected Experiences: Lily Enterprise provides the persistence to connect with customers across any channel, via the optimal channel, both in the digital and physical world, to deliver a seamless and continuous customer experience. Lily Clients will deliver truly connected experiences as 'one brand' to their customer. 
Key highlights
Category
Customer Analytics
About NGData
NGDATA helps brands in data-driven industries, such as financial services, telecom, utilities and hospitality, to drive connected experiences. Our Next Generation Customer Data Platform, Lily™, puts people at the center of every business via Lily's Customer DNA, which continuously learns from behavior to deliver compelling experiences for companies. NGDATA is headquartered in Gent, Belgium and has offices in the United States, Europe and Asia-Pacific.