Solution overview
Pentaho's powerful data processing and embeddable analytics allow you to capitalize on the variety and volume of your big data, allowing you to easily access, enrich and de-identify data sets to be packaged as a new data service offering for your customers.
What it is
30% of businesses will monetize data by 2016. Using Cloudera as a data processing platform with Pentaho's embeddable big data integration and analytics platform can power a real-time data service to create a new and thriving revenue streams for your company.
Generate new sources of revenue by leveraging your diverse high volume data
No-code data integration environment that delivers easy big data ingestion, processing and transformations.
High-performance multi-dimensional analytics that can be embedded into any online applications.
Flexibility of platform to support customer-specific deployments and multi-tenant security.
How it works
Example of how this may look within an IT landscape:
PDI used to ingest de-identified billing, customer, network, and location data into Hadoop
Process and deliver data to data warehouse for faster queries
Pentaho Business Analytics leveraged by end users for agile visualization, dashboards, and ad hoc analysis
The Results
Seamless integration between raw data, Hadoop, and analytical database
Brand new revenue stream from producing powerful market intelligence
Diversification of existing lines of business through new data offerings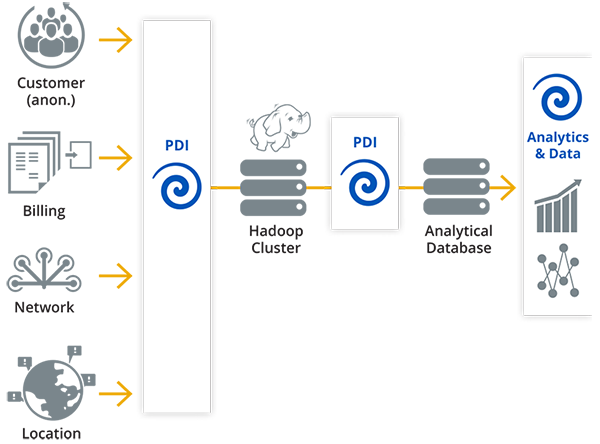 Key highlights
Category
Modernize Architecture 
About Pentaho
Pentaho, a Hitachi Group company, is a leading data integration and business analytics company with an enterprise-class, open source-based platform for diverse big data deployments. Pentaho's unified data integration and analytics platform is comprehensive, completely embeddable and delivers governed data to power any analytics in any environment.
Partnership highlights
Continuous collaboration to address the big data market and customer challenges use cases
Pentaho's Analytics Platform is deeply integrated and optimized for Cloudera Enterprise
Pentaho's Big Data Integration and Analytics platform gives organizations a competitive edge in a data-driven enterprise