Optimize the Data Warehouse

Solution overview
Reduce strain on the data warehouse by offloading less frequently used data and corresponding transformation workloads to Hadoop without coding or relying on legacy scripts and ETL product limitations.
WHAT IT IS
HADOOP MADE SIMPLE, ACCESSIBLE AND 15X FASTER
Pentaho simplifies offloading to Hadoop and speeds development and deployment time by as much as 15x versus hand-coding approaches. Complete visual integration tools eliminate the need for hand coding in SQL or java-based MapReduce jobs.
Save data costs and boost analytics performance
An intuitive graphical, no-coding big data integration.
Access to every data source – from operational to relational to NoSQL technologies.
Support for every major Hadoop distribution with a future-proof adaptive big data layer.
Achieve higher processing performance with Pentaho MapReduce when running in cluster.
100% Java, fast and efficient.
As part of the Pentaho Business Analytics Platform, there is no quicker or more cost-effective way to immediately get value from data through integrated reporting, dashboards, data discovery and predictive analytics.
 
HOW IT WORKS
EXAMPLE OF HOW THIS MAY LOOK LIKE WITHIN AN IT LANDSCAPE: 
This company leverages data from disparate sources including CRM and ERP systems.
A Hadoop cluster has been implemented to offload less frequently used data from the existing data warehouse.
The company saves on storage costs and speeds-up query performance and access to their analytic data mart.
THE RESULTS
Staff savings and productivity: Pentaho's Visual MapReduce - GUI and big data integration means existing data warehouse developers can move data between the data warehouse and Hadoop without coding.
Time to value: MapReduce development time is reduced by up to 15x versus hand-coding based on comparisons.
Faster job execution: Pentaho MapReduce runs faster in cluster versus code generating scripting tools.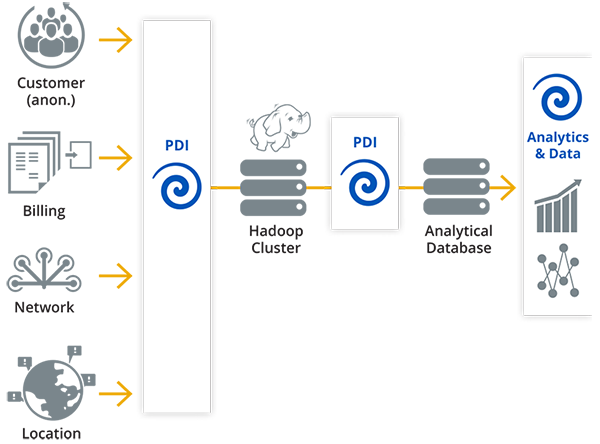 Key highlights
Category
Modernize Architecture 
About Pentaho
Pentaho, a Hitachi Group company, is a leading data integration and business analytics company with an enterprise-class, open source-based platform for diverse big data deployments. Pentaho's unified data integration and analytics platform is comprehensive, completely embeddable and delivers governed data to power any analytics in any environment.
Partnership highlights
Continuous collaboration to address the big data market and customer challenges use cases
Pentaho's Analytics Platform is deeply integrated and optimized for Cloudera Enterprise
Pentaho's Big Data Integration and Analytics platform gives organizations a competitive edge in a data-driven enterprise