Real-time Event-based Analytics and Collaboration Hub (REACH)

Solution overview
By combining the latest open-source technologies with a deep software architect and industry wide business knowledge, relying on the biggest Hadoop distribution (Cloudera) REACH (Real-Time Event based Analytical and Collaboration Hub) engineers built up a unique Industry 4.0 platform to cover all the needs to become a Smarty Factory. The system is designed to ensure high scalable Real Time event based Industry 4.0 architecture. Our philosophy is that an old production machine also can be capable for Industry 4.0.
Fog computing – Fog and Cloud computing are complementary to each other. As the amount of data increases, transmitting it all to the cloud can lead to challenges such as high latency, unpredictable bandwidth bottlenecks and distributed coordination of systems and clients. Fog computing brings computing and applications closer to the data, saving bandwidth on billions of devices and enabling real-time processing and analysis on huge datasets and streams.
Complex events processing – REACH architecture is complex event processing (CEP) based architecture, it can handle data from multiple, heterogeneous sources, apply complex business rules, and drive outbound actions. The applied technique for tracking, analyzing, and processing data as an event happens. 
Machine learning and real time analytics – REACH contains several predefined machine learning algorithms to ensure the maximize the business benefits from the huge amount of data in the system. 
Distributed data platform – Cloudera data platform is an open source software platform for distributed storage and distributed processing of very large data sets on computer clusters built from commodity hardware. Cloudera services provide for data storage, data processing, data access, data governance, security, and operations. 
Based on open standards – Communication between the stacks based on open standards to ensure interoperability. 
Loosely coupled – In our proposed platform each stack is loosely coupled to each other, that means the platform are able to integrate any existing or desired third party stack either in device, messaging or data store stack. It can be easily integrated into and existing IT environment an is capable to reuse and integrate the existing IoT solutions. The platform defines REST APIs that allow easy integration with existing applications and integration with other Industry 4.0 solutions.
Platform-independent – Each stack is independent from the host hardware infrastructure. For instance, the device stack is available on multiple MCUs and the Industry 4.0 platform can on different PaaS if desired.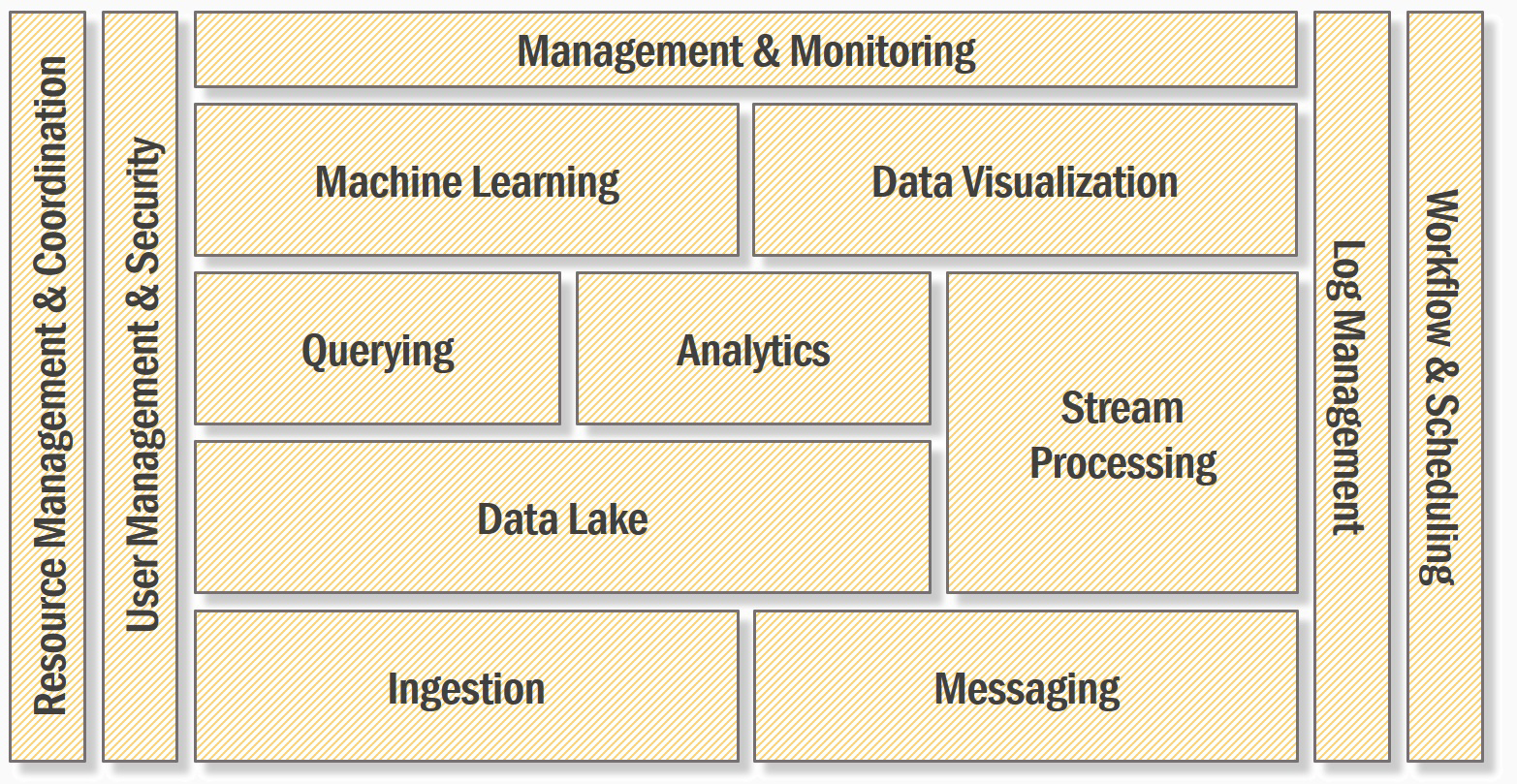 Positive Business Outcomes
Based on numerous implementations of the platform at different production plants and in different industries, a portfolio of system functionalities has been selected to be part of the REACH user interface. It helps factory staff monitoring, keeping track of, analyzing and modeling complex machine events, to make better decisions in daily manufacturing and long-term business processes.

We provided some of these functionalities in REACH architecture. These are the following:
Real-time data monitoring
Real-time alerting
Real-time OEE and downtime management
Cycle time monitoring
Quality monitoring
Logistics
Predictive maintenance
Anomaly decisions
Scrap monitoring and prediction
Location tracking &asset monitoring
Workflow management
Custom analytics layer
Devices
Data Lake
Algorithms an analytics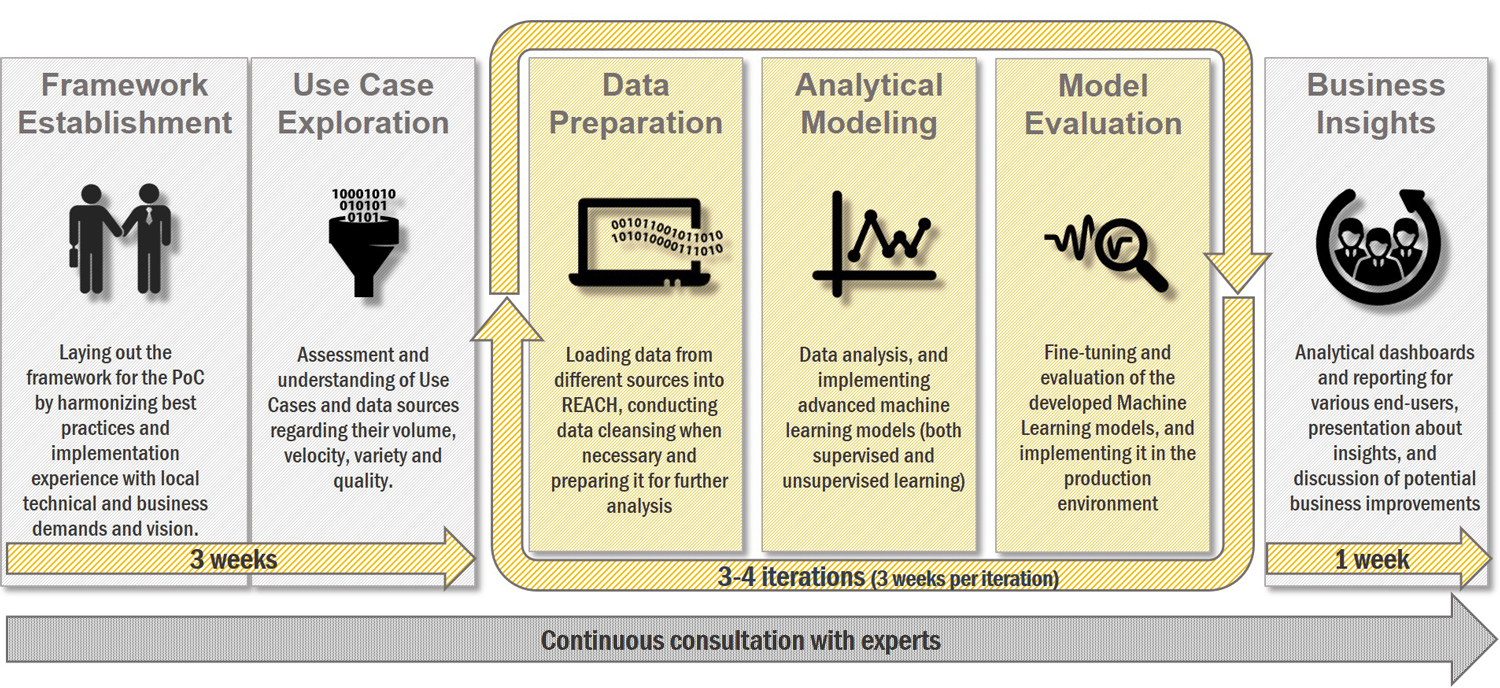 Metrics and proof points
 
Interoperability: The ability of machines, devices, sensors, and people to connect and communicate with each other via the Internet of Things (IoT) or the Internet of People (IoP).
Information transparency: The ability of information systems to create a virtual copy of the physical world by enriching digital plant models with sensor data. This requires the aggregation of raw sensor data to higher-value context information.
Technical assistance: First, the ability of assistance systems to support humans by aggregating and visualizing information comprehensibly for making informed decisions and solving urgent problems on short notice. Second, the ability of cyber physical systems to physically support humans by conducting a range of tasks that are unpleasant, too exhausting, or unsafe for their human co-workers.
Decentralized decisions: The ability of cyber physical systems to make decisions on their own and to perform their tasks as autonomously as possible. Only in the case of exceptions, interferences, or conflicting goals, are tasks delegated to a higher level.
Differentiators
We provide a real time analytical and data storage platform to integrate all necessary data in your company to cover the needs of Industry 4.0 requirements (including logistics, financial, human and machine sensor data). The platform is not only capable for collecting data but also provides loads of interfaces for sending control signals to machines and data to other systems.

Compared to our competitors REACH does not trust in cloud computing. We stay near to the ground and we suggest to use the cloud layer to cross company analysis. Our Fog computing approach ensures that your data and calculations stay in secure on premise.

Real-time Event-based Advanced Collaboration Hub (REACH) is capable of being the backbone of any IoT deployment as a unifying platform to collect, organize, and activate data from any source. REACH not only collects and organizes data, but makes it available to others (machines or humans) to be used for targeted executing, performance optimization and beyond. Our integrated solution offers:
Connectivity: Agents that ensure constant object connectivity and harmonized data formats.
A data management platform: To collect, organize, and activate data in reliable, scalable, distributed computing and data storage framework.
Processing and action management: rule engine that allows for real-time actions based on incoming sensor & device data.
Machine learning and analytics: algorithms for advanced calculations and executions, with built-in modules to combine SQL and streaming data processing.
External interfaces: APIs, SDKs and gateways that act as interfaces for 3rd party systems.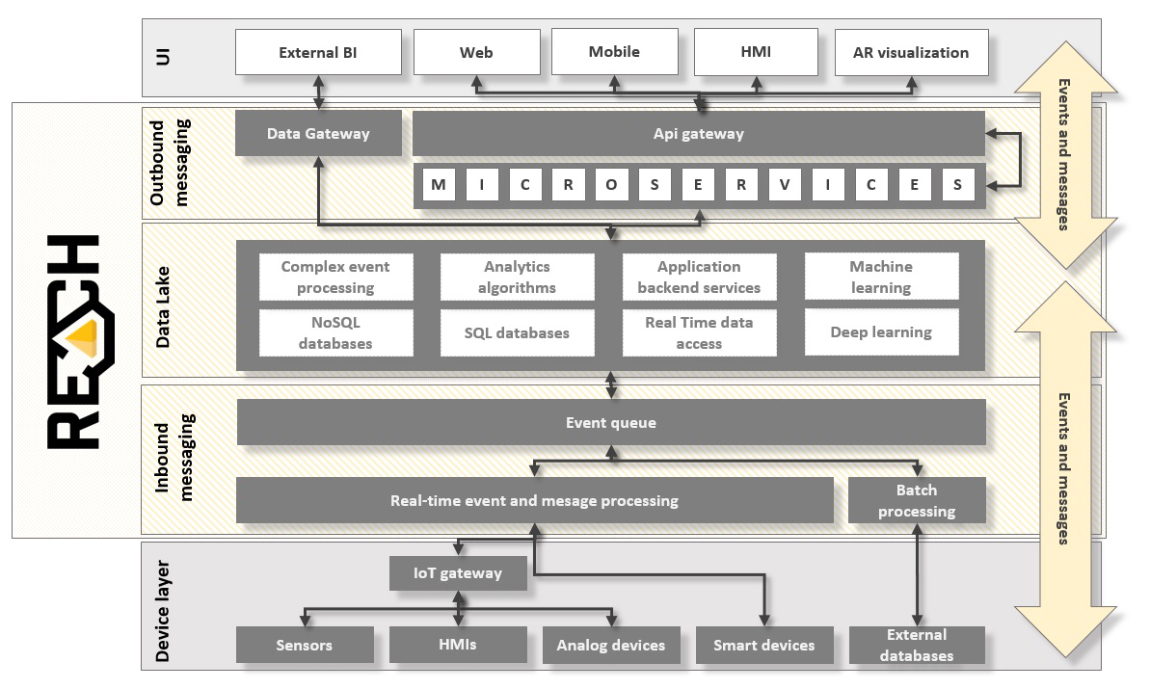 Key highlights
Category
Modernize Architecture
About REACH Solutions Ltd.
At REACH we combine state-of-the-art Fog computing, Big Data technologies and machine learning to help our customers realize the Smart Factory transition and create a digital twin of their production plants. We not only develop and implement platform, we also help to define the whole Industry 4.0 strategy.
REACH Solutions Ltd. partner page
Required capabilities
To implement our system the company does not need any special capabilities. Our philosophy says that any old machine can be smart enough to be a part of a modern Industry 4.0 infrastructure. We just require a basic IT infrastructure environment and we believe it exists in most companies, everything else is done by REACH experts.