Solution overview
Enterprises are running more and more big data applications in production (like ETL, analytics, machine learning, etc.). These applications have to meet performance-related business needs such as deadlines (e.g., ETL job to finish by market close), fast response time (e.g., Hive queries), and reliability (e.g., fraud app). The data platform team (architect, operations and developers) needs to ensure application reliability, optimize storage and compute while minimizing infrastructure costs, and optimize DevOps productivity.
Unravel provides a single pane to optimize, troubleshoot, and analyze the performance of big data applications. Unravel correlates all performance metrics across every layer of the big data stack, from the infrastructure to the services and applications, as well as within each layer to give a true full-stack view of application performance. Unravel then applies artificial intelligence, machine learning, and predictive analytics to empower operations to optimize, troubleshoot and analyze from a single tool.
Optimize
 
Automatically speed up applications and improve resource usage efficiency
Detect, diagnose and fix missed SLAs
Automatically detect and eliminate rogue or resource wasting jobs
Get more out of storage – Remove "cold" tables, maximize tiered storage utilization
Get more throughput by allocating the right size of pools and containers
Troubleshoot
 
"MRI" view of application performance – from code to infrastructure
Automatically detect performance bottlenecks and failures
Avoid or resolve contention issues
Easily correlate infrastructure, services and application issues
Setup auto-actions to resolve recurring issues automatically
Analyze
 
Chargeback –reporting for all usage on all clusters
Cost savings – how to save costs by application, user, storage, CPU
Auditing and governance – track usage and access to data and applications by users
Ops dashboard – bird's eye view on health and performance of the entire stack
360° visibility – about applications, services, infrastructure and users
Key highlights
Category
Modernize Architecture

About Unravel
Unravel is headquartered in Menlo Park, CA. Unravel was founded in 2013 by the same team that created the open-source Starfish self-tuning analytics system at Duke University. We're home to a diverse group of professionals with enterprise software, database, and distributed computing experience at companies including Cloudera, Facebook, LinkedIn, Netflix, Oracle, and Rocket Fuel. Our investors and advisors include Menlo Ventures and Data Elite.
Industry
Financial Services, Retail, Insurance, Public Sector, Telecommunications, Healthcare, Energy and Utilities, Technology
Deployment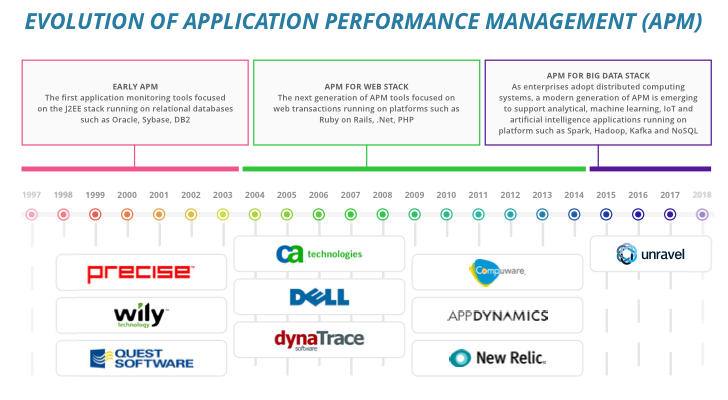 Positive Business Outcomes
Guarantee SLAs:
Detect and resolve issues across your big data infrastructure, platforms, and applications.
Improve Productivity:
Stop wasting time going through graphs and logs & using trial-and-error techniques.
Reduce Cost:
Eliminate wastage and poor resource allocation across your infrastructure.
Differentiators

Full Stack
Go beyond monitoring graphs and logs
Unravel manages performance up, down, and across every layer of the big data stack to create a single view of application performance.
Intelligent
Simplify Big Data Operations
Unravel's built-in machine learning and predictive analytics are your expert companions to detect, diagnose, and help resolve problems.
Autonomous
Move away from reactive trouble ticket escalations to pro-active Ops
Unravel's artificial intelligence can automatically fix problems and prevent new ones from happening.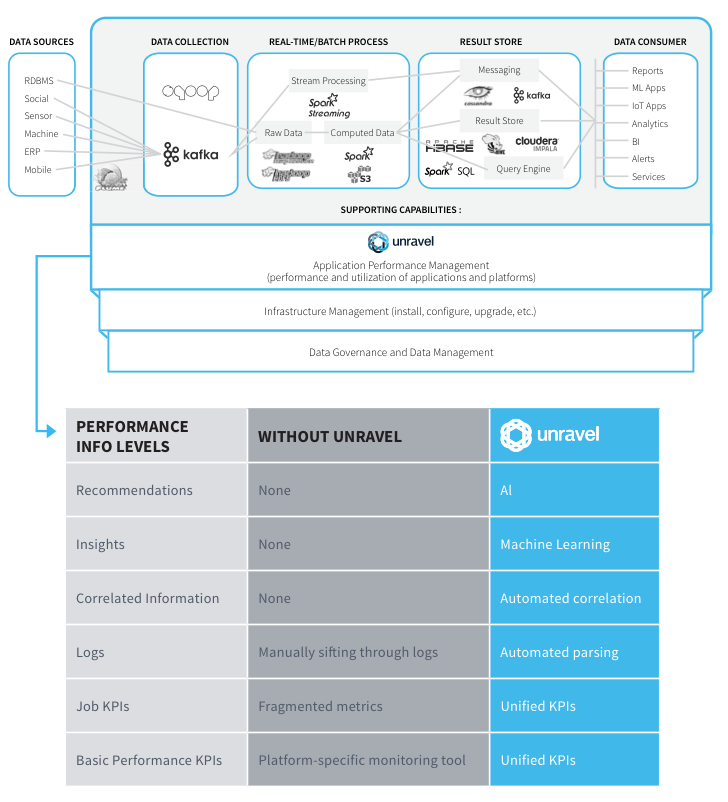 Summary
Unravel takes an application-first approach that creates a correlated view of all the performance KPIs across the big data stack. It also provides automated insight into the root causes of issues as well as recommendations to fix them. Unravel makes it simple to plan and manage performance because it provides full visibility into utilization and how to optimize every layer of the stack.