Kafka key features
Hadoop scale
A Kafka cluster can be elastically and transparently expanded without downtime.
Fast ingest
Even with modest hardware, Kafka can support hundreds of thousands of messages per second, with latencies as low as a few milliseconds.
Always-on reliability
Messages are persisted on disk and replicated within the cluster to prevent data loss. Rolling restarts available through Cloudera Manager for added reliability.
Support for high concurrency and multi-tenancy
Ability to simultaneously handle up to thousands of diverse clients—simultaneously writing to and reading from Kafka, with throttling based on client quotas.
Secure
Secure the Kafka cluster with Kerberos integration and protect data as it comes in with native over-the-wire encryption.
Common use cases
Kafka's flexibility enables end-to-end workloads for a variety of critical use cases all within a single system, including:
Internet of Things and stream processing
Log aggregation
Large-scale messaging
Customer activity tracking
Operational alerting and reporting
Integrated across Cloudera Data Platform
Apache Kafka has emerged as the single central backbone of streaming architectures for large organizations, igniting data-in-motion innovations across financial services, telecommunications, manufacturing, and numerous other industries. Kafka is inherently scalable and fits nicely into a myriad of next-generation use cases that require advanced analytics on data streams. 
The integration of Cloudera DataFlow (CDF) with Cloudera Data Platform enables you to leverage the best Kafka ecosystem today. CDF's Streams Messaging capabilities within CDP are available on-premises, in the public cloud, as well as on hybrid cloud architectures. These address the unique needs of Kafka platform operations, DevOps, application development, security, and governance teams.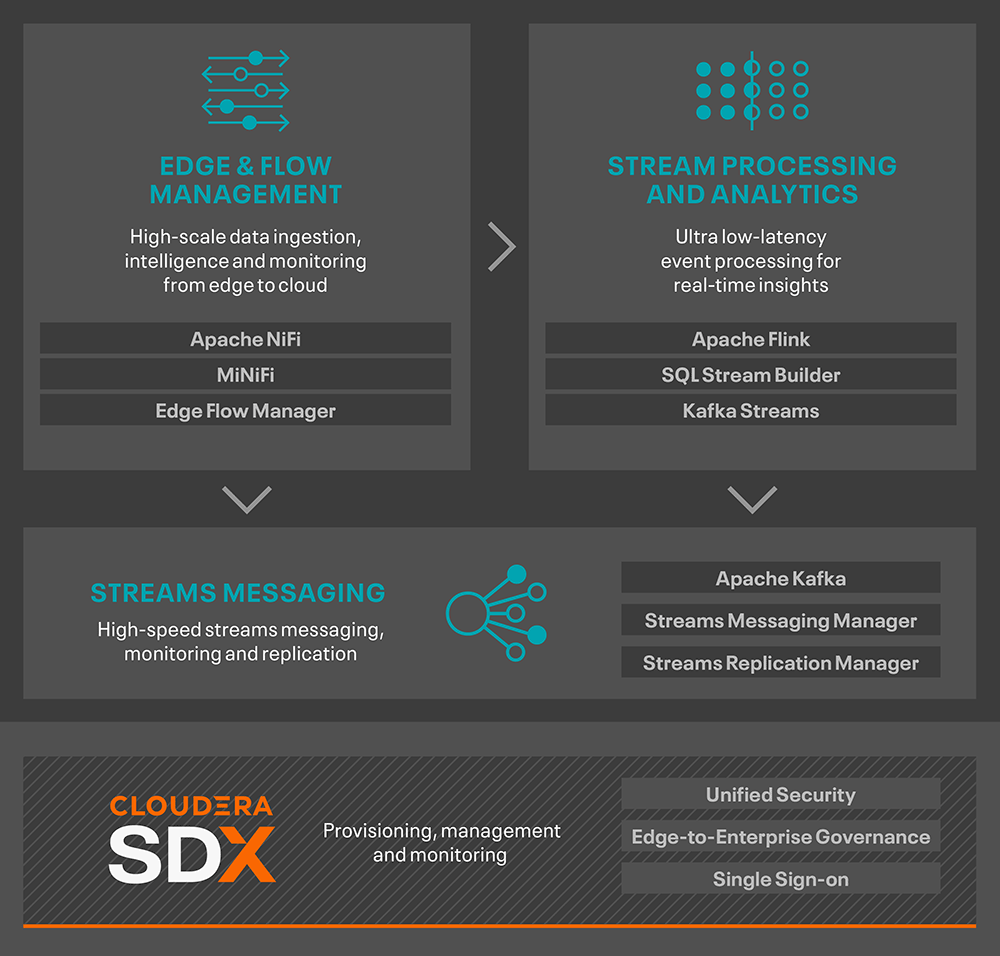 Cloudera's commitment to Kafka
Cloudera is actively involved with the Kafka community and has deep engineering relationships with partners and other Kafka committers. This relationship has led to critical production-ready improvements, especially around reliability and deployment, and continued work to further security integrations.
Cloudera's engineering expertise, combined with support experience with large-scale production customers, equals direct access and influence to the roadmap based on your needs and use cases.
Expert support for Kafka
Trained by its creators, Cloudera has Kafka experts available across the globe to deliver world-class support 24/7. With more experience across more production customers, for more use cases, Cloudera is the leader in Kafka support so you can focus on results.