Solution Overview
As the world's first enterprise data cloud, Cloudera Data Platform (CDP) allows organizations to realize the benefits of data and analytics in a true hybrid, multi-cloud environment. CDP provides an integrated data platform that delivers a collection of services which are typically deployed manually using the UI. The RI Daedalus solution automates the deployment of a complete production-ready data & analytics platform, including optional 3rd party solutions in matter of just hours. Daedalus provides full automation in the deployment and management of the platform, leveraging the power of CDP as the foundation. Just add your data and begin delivering strategic value for the organization. Daedalus leverages Cloudera CDP as the foundation to deliver an end-to-end production-ready, data & analytics platform spanning from source data loading, through transformation and harmonization, and resulting in a robust consumption layer for business users. Daedalus supports hybrid, multi-cloud deployments with support for AWS and Azure today, and soon supporting GCP and Private Cloud.
Deploy full-scale, production-level automated deployments exclusively with Cloudera Data Platform
Single control file controls the full data & analytics platform deployment, eliminating the need to manually configure and deploy each individual service
Pre-check process confirms required cloud resources and proper configuration settings prior to the start of the deployment
Monthly cost estimates for CDP and the cloud provider resources in advance of deployment - User and group synchronization to LDAP for creation, management, or deletion of users
Installs your organization's required software and updates to all static and dynamic instances to assure compliance
Maintains security policies to dynamically restrict or grant access to data sources
Deploy 3rd party products into the CDP-ecosystem, such as Nabu from Modak, Neo4j, and tellic graph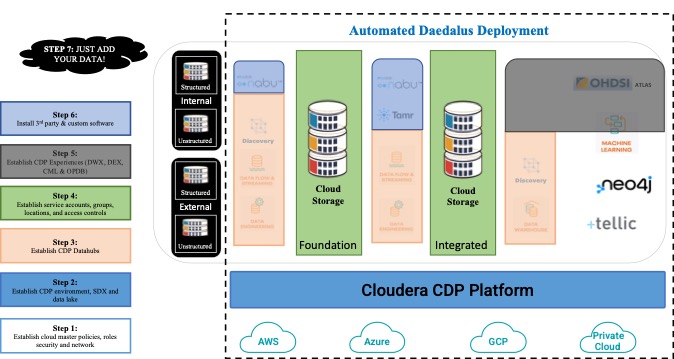 Key highlights 
Category
Modernize Architecture 
About Ramsey International
Ramsey International, LLC (RI) provides world renowned Consultancy Services in the field of Big Data and Analytics. Specializing in advising senior executives (CEO, CFO, CMO, CIO) on leveraging data strategy to optimize business performance, data governance, big data, marketing analytics, social media analytics, business analytics and master data management. RI was named the 2021 Cloudera Partner of the Year for their groundbreaking work with Cloudera Data Platform.