Overview
The world's first enterprise data cloud
Finally, a big data platform for both IT and the business, Cloudera Data Platform (CDP) is:
Simple to use and secure by design
Manual and automated
Open and extensible
For data engineers and data scientists
On premises and public cloud
Realize the benefits of both private and public cloud with CDP Hybrid Cloud. It runs everywhere—on any cloud with any analytics and any data—so you don't have to compromise. 
Hybrid & multi-cloud
Operates across all major public clouds and the private cloud with a public cloud experience everywhere.
Multi-function analytics
Integrates big data management and analytic experiences across the data lifecycle for data anywhere.
Secure & governed
Delivers security, compliance, migration, and metadata management across all environments.
Open platform
Open source, open integrations, extensible, & open to multiple data stores and compute architectures.
CDP: Enabling IT to move at the speed of business

Deliver easier, faster, and safer self-service analytics experiences.
Enable cloud everywhere

Do cloud better

Optimize the data lifecycle
Enable cloud everywhere

Accelerate adoption of cloud-native data services for private and public cloud with CDP Hybrid Cloud.
IT has traditionally struggled rolling out bare metal infrastructure, sharing multi-tenant workloads on full-capacity servers, and managing data centers lacking capacity with maxed-out capital budgets. CDP provides welcome flexibility to IT and agility to business users by extending public cloud innovation to the data center, separating compute and storage for better control and agility, delivering a PaaS user experience, and bursting to the cloud when necessary.  
Do cloud better

Deliver cloud-native analytics to the business in a secure, cost-efficient, and scalable manner.
Provide self-service access to integrated, multi-function analytics on centrally managed and secured business data while deploying a consistent experience anywhere—on premises or in hybrid and multi-cloud. Enjoy consistent data security, governance, lineage, and control, while deploying the powerful, easy-to-use cloud analytics experiences business users require and eliminating their need for shadow IT solutions.
Optimize the data lifecycle

Collect, enrich, report, serve, and model enterprise data for any business use case in any cloud.
High value, data-driven business use cases require modern, streaming real-time data and integrated analytics and machine learning service that are both easy for IT to manage and deploy and easy for business users to consume and operationalize. CDP makes it easy to deploy modern, self-service analytics and machine learning services for any data, anywhere, with shared security and governance and the flexibility to scale anywhere with the same experience.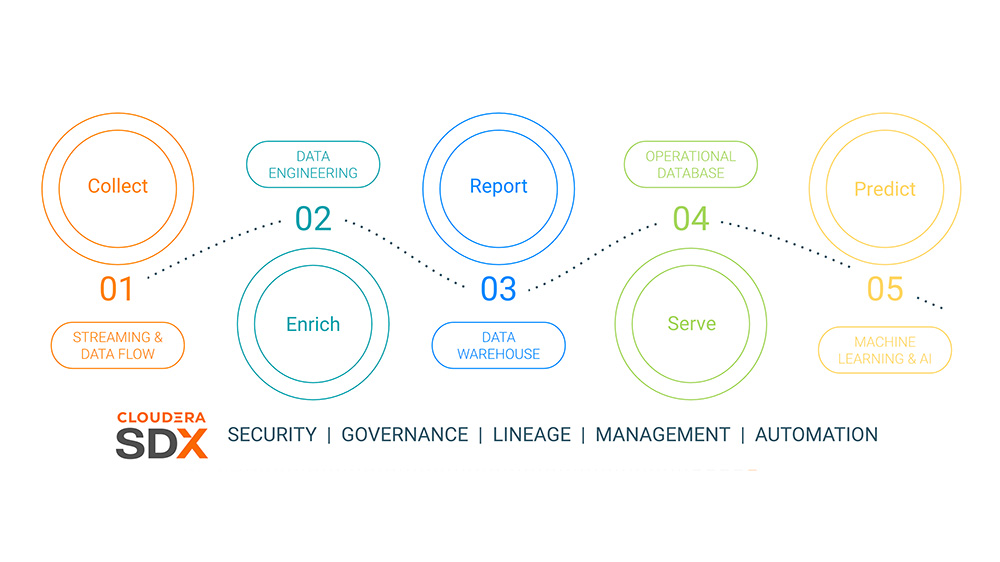 Cloudera Data Platform editions
CDP Public Cloud

CDP Private Cloud
CDP Public Cloud
Create and manage secure data lakes, self-service analytics, and machine learning services without installing and managing the data platform software. CDP Public Cloud services are managed by Cloudera, but unlike other public cloud services, your data will always remain under your control in your VPC. CDP runs on AWS, Azure and Google Cloud.
CDP Public Cloud lets you:
Control cloud costs by automatically spinning up workloads when needed and suspending their operation when complete 

Isolate and control workloads based on user type, workload type, and workload priority

Combat proliferating silos and centrally control customer and operational data across multi-cloud and hybrid environments
CDP Public Cloud Data Services
CDP Private Cloud
CDP Private Cloud delivers powerful analytic, transactional, and machine learning workloads in a hybrid data platform, combining the agility and flexibility of public cloud with the control of the data center. With a choice of traditional as well as elastic analytics and scalable object storage, CDP Private Cloud modernizes traditional monolithic cluster deployments into a powerful and efficient platform. 
An integral part of CDP Hybrid Cloud, CDP Private Cloud provides the first step for data center customers toward true data and workload mobility, managed from a single pane of glass and with consistent data security and governance across all clouds, public and private.
With CDP Private Cloud, organizations benefit from:
Rapid time to value through simplified provisioning of easy-to-use, self-service analytics in minutes rather than days, enabling rapid onboarding of new use cases
Improved cost efficiency with optimized resource utilization and the decoupling of compute and storage, lowering data center infrastructure costs up to 50%
Predictable performance thanks to workload isolation and perfectly managed multi-tenancy, eliminating the impact of spikes on critical workloads and resulting missed SLAs and SLOs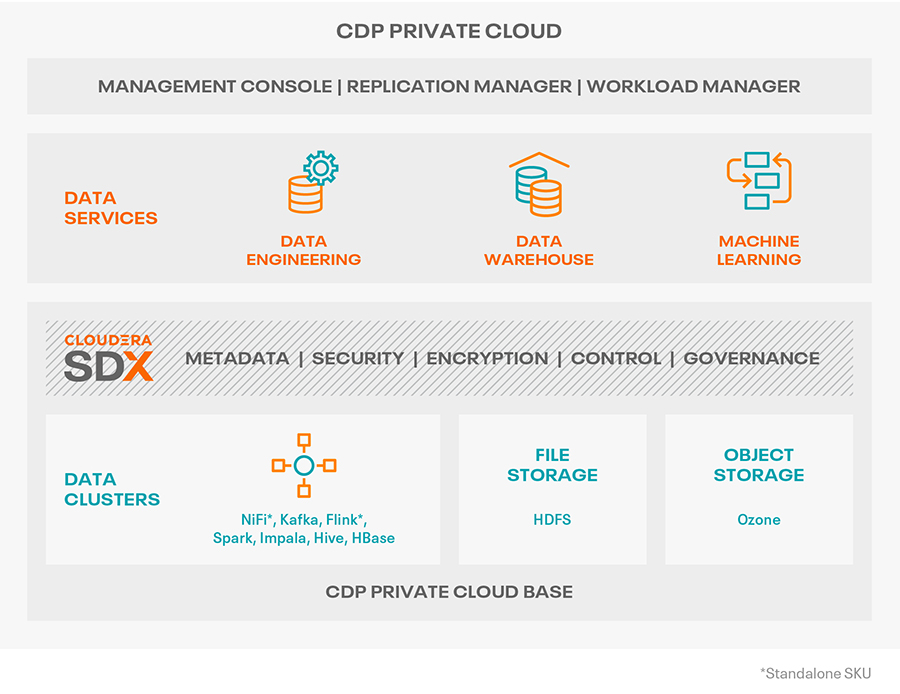 CDP Private Cloud Data Services
Tools for technical users
Evaluate CDP: Demos and product tours
Watch technical demos aimed at both educating and inspiring users with deep dives into topics such as application development with Operational Database and building end-to-end data pipelines spanning edge devices all the way to the public cloud.
Get a look under the hood of Cloudera Data Platform in an eight-video product tour that explains the importance of connecting, managing, and securing the entire data lifecycle and details how individual CDP products work together to further that effort.
Build skills: User resources & training
Save time with a one-stop-shop delivering resources for technical users aimed at helping you build skills and gain knowledge about Cloudera Data Platform, including videos, tutorials, blogs, training, events, community, Professional Services offerings, documentation, and more.
Get up to speed with a free, on-demand training course that walks you through the specific ways that CDP enables both business teams and IT staff to be more productive and explains its capabilities for turning data into actionable insight. Hear, as well, from two customers who have successfully implemented CDP.
What customers say about Cloudera Data Platform


"A very solid and well performing solution that allows us to do things we have never done before."
Group GM: BI & Analytics
Carriers Industry

"Excellent overall experience. ... Very intuitive and helps to integrate various open source projects we use."
CIO
Services Industry

"Integrated stack, best of the breed technology stack, aligned product management."
SVP
Finance Industry
Gartner Peer Insights content consists of the opinions of individual end users based on their own experiences with the vendors listed on the platform, should not be construed as statements of fact, nor do they represent the views of Gartner or its affiliates. Gartner does not endorse any vendor, product or service depicted in this content nor makes any warranties, expressed or implied, with respect to this content, about its accuracy or completeness, including any warranties of merchantability or fitness for a particular purpose. Reviews have been edited to account for errors and readability.
Migrate to CDP
Choose your current platform below to get migration recommendations as well as resources tailored to your environment. 
World-class training, support & services