Overview
The ultimate flexibility in data analytics.
CDP Hybrid Cloud is a hybrid data cloud platform designed for unmatched freedom of choice—any cloud, any analytics, any data—for faster and easier management of enterprise analytics for data anywhere, without compromising performance, scalability, or security.
CDP Hybrid Cloud delivers all the value of CDP Private Cloud and CDP Public Cloud. No need to choose. You get it all, including:
Flexibility to run the right analytics on any cloud for faster insights
Performance and scale to optimize TCO across your choice of clouds
Security that's consistent across clouds for simpler compliance
CDP Hybrid Cloud runs anywhere your business does, enabling you to put all your data to work and make better decisions faster.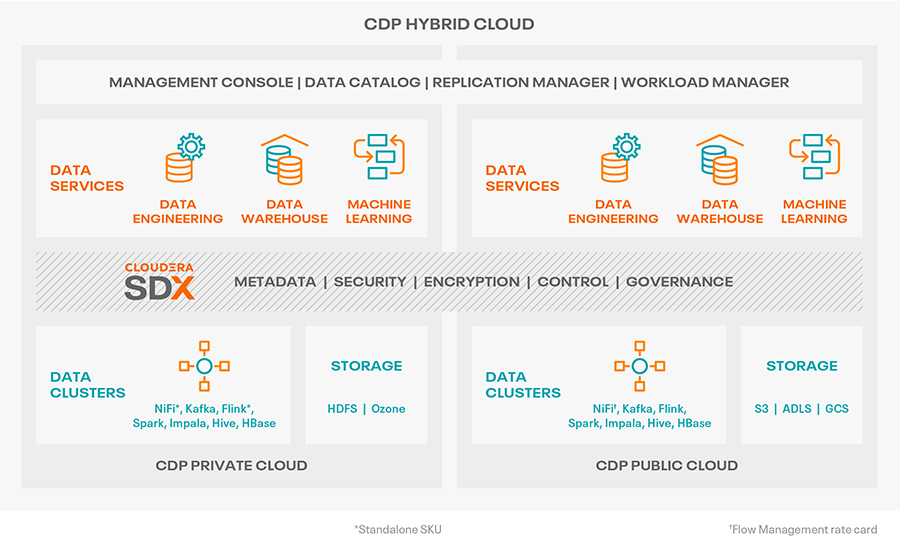 A hybrid data cloud is an environment that employs both private and public cloud data services.
CDP Hybrid Cloud use cases

Unleash the speed of public cloud and the performance of private cloud.
Hybrid workloads
Offload on-premises workloads during peak demand due to seasonality or real-time urgency.
Hybrid Pipelines
Optimize pipelines with cloud data clusters for easier management and no change to operations or SLAs.
Hybrid data integration
Simplify application development that needs on-premises sources and cloud-native data stores.
Hybrid DevOps
Accelerate development with dev sandboxes in the cloud, but production runs on premises.
Hybrid data applications
Build once, run anywhere for cost, performance, data residency, or regional cloud availability.
Hybrid cloud adoption is growing rapidly as data volume and variety increase
of enterprise workloads run on public and private cloud implementations

Source: IDC, Cloud Growth, Migration, and Repatriation Continue to Gain Momentum, March 2020, US46119020
of enterprises are on board with hybrid IT environments that leverage both on-premises resources and public cloud in an integrated fashion
Source: 451 Research (part of S&P Global Market Intelligence), Cloud Price Index, Jan 2021
of enterprises have a multi-cloud strategy, whereas 80 percent have a hybrid cloud strategy

Source: Flexera, State of the Cloud Report, 2021
Efficiently scale resources when demand for multiple concurrent analytic workloads demands it, moving large-scale deployments without financial penalties, consolidating compute resources, and minimizing data replication to reduce operational overhead, risk, and infrastructure costs.
Manage both virtual machine–based and containerized analytics across your entire hybrid environment, automating deployment and maintenance tasks to reduce administrative overhead and provide predictable performance.
Centralize security and governance for cluster- and container-based analytics across private and public clouds, auditing and monitoring user activity and access and meeting the compliance needs of even the most regulated industries.
Migrate, modernize, and optimize existing workloads quickly and without refactoring, using familiar tools and processes and leveraging existing skills to roll out new cluster-based analytics and container-based analytic services.
Support modern cluster-based analytics and cloud-native container-based analytics with the cloud-agnostic user experience, consistent administration, and continual updates that users have come to expect from self-service analytics.
World-class training, support, & services