Overview
The on-premises data platform that moves at the speed of your business.
CDP Private Cloud delivers powerful analytics, transactional, and machine learning workloads in a hybrid data platform, combining the agility and flexibility of public cloud with the control of the data center. With elastic analytics and scalable object storage, CDP Private Cloud modernizes traditional monocluster deployments into a scalable and efficient platform.
Together with CDP Public Cloud, CDP Private Cloud provides a true hybrid cloud solution, managed from a single pane of glass and with consistent data security and governance across all deployments.
CDP Private Cloud meets the critical data and analytic requirements of IT and data users alike. Organizations benefit from: 
Rapid time to value through simplified provisioning of easy-to-use, self-service analytics to power the data lifecycle, enabling rapid onboarding of new use cases 10 times faster

Improved cost efficiency with optimized resource utilization and the decoupling of compute and storage, lowering data center infrastructure costs up to 50 percent

Predictable performance thanks to workload isolation and better managed multi-tenancy, ensuring minimal impact of spikes on critical workloads, delivering a 100 percent rock solid service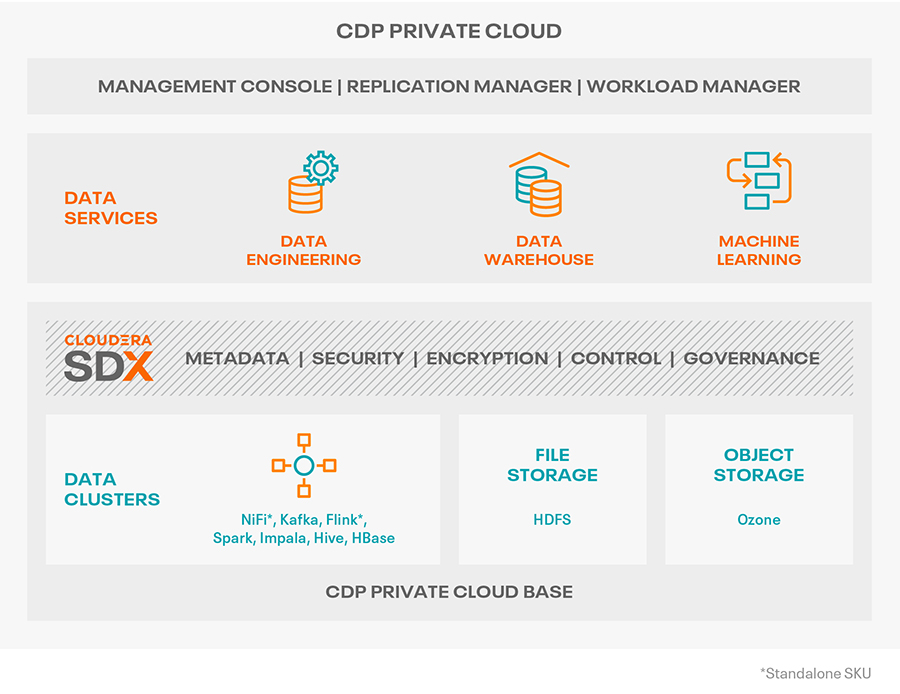 CDP Private Cloud services
Data Engineering
Orchestrate, operationalize, and automate complex data pipelines to increase efficiency and accelerate time to value.
Data Warehouse
Unleash hybrid and multi-cloud data warehouse service for all modern, self-service, and advanced analytics use cases at scale.
Machine learning
Accelerate development at scale, anywhere, with self-service machine learning workspaces and the underlying compute clusters.
Traditional Workloads
Deploy highly customizable powerful analytic and transactional workloads on a traditional cluster with consistent security, governance, and control.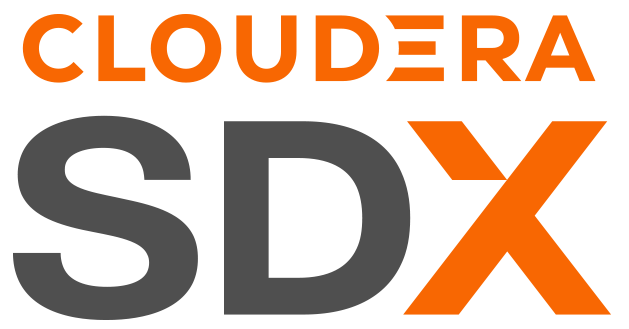 Enterprise-grade security and governance
Secure and govern platform data, metadata and control capabilities with dedicated, integrated interfaces to manage it. Data security, governance, and handling policies are set once and consistently enforced everywhere, reducing operational costs and business risks while also enabling complete infrastructure choice and flexibility.
Benefits of CDP Private Cloud
Faster, Easier Administration

Best-in-class data lifecycle solutions

Integrated Data Platform

Scalability & Performance

Secure & Governed
Faster, easier administration

Simplify management with a centralized and holistic view of the entire data lifecycle.
Manage, monitor, and orchestrate all analytics and platform services from a single pane of glass not just for private cloud but across hybrid cloud. Upgrade costs are halved with CDH and HDP deployments that can be modernized in-place and individually upgradeable workloads. Advanced automation of deployment and maintenance tasks ensures predictable performance that guarantees SLAs and delivers new analytics more rapidly, enabling new use cases three months faster.
Best-in-class data lifecycle solutions

Accelerate data-driven decisions with powerful analytic, transactional, and machine learning workloads.
CDP Private Cloud delivers a purpose-built suite of analytic applications, each excelling in its own class to deliver powerful, performant, and functional analytics on all data. Dedicated interfaces and capabilities for teams of engineers, analysts, and data scientists let them work with their data their way to uncover data-driven insights for better decision making. Self service reduces deployment of new analytics from 3+ weeks to 10 minutes, increasing time to value for end users and improving efficiency for platform managers.
Integrated data platform

Eliminate data center silos storing and analyzing data, getting to deeper insights faster.
With both cloud-native analytical services and traditional workloads leveraging the same, single copy of data, CDP Private Cloud delivers interconnected analytics. Powerful analytics and data pipelines deployed with ease let data practitioners effortlessly share data context and results, ensuring swift value and deep insight.
Scalability & performance

Optimize performance and efficiently match resources to demand across concurrent analytic workloads.
Resource optimization gives business-critical applications the dedicated power they need without contention, reducing the risk of missed SLAs. Elastic scaling of compute and storage resources without redeployment dynamically matches the performance requirements to the workload and doubles resource utilization. Cluster consolidation and elimination of data duplication drives further efficiency and reduces infrastructure costs by 30 percent.
Secure & governed
Ensure control and governance with built-in security for the entire data and analytics lifecycle.
CDP Private Cloud features an integrated policy engine to deploy security rules, authorization, and policies at every step of the data lifecycle while scaling to thousands of users without the burden of administration. The platform manages user access, monitors activity, and audits usage of shared data across every workspace for consistent governance. To meet the compliance needs of highly regulated industries, CDP includes end-to-end governance of sensitive data and can extend to all your clouds—private as well as public and hybrid.
CONTENT HUB
Watch on-demand webinars and demos and read blogs and analyst reports. All about private cloud, all from one place.
Free training
Learn key concepts such as the use of cloud-native design elements in the free CDP Private Cloud Fundamentals course. 
CDP technical resources
Save time with a one-stop shop pointing you to technical information and resources to help you develop your skills and gain knowledge about CDP.
Migrate to private cloud

Migrate your existing on-premises workloads from legacy distributions to CDP Private Cloud.
Pricing
Evaluate pricing, billing terms, and licensing details, as well as estimate costs with handy calculators.
World-class training, support, & services