Overview
Cloudera empowers people to transform complex data into clear and actionable insights.
From autonomous vehicles and surgical robots to churn prevention and fraud detection, enterprises rely on data to uncover new insights and power world-changing solutions. And it all starts with a foundational data management platform. One with the scale to meet the needs of today's most demanding workloads and the elasticity to capitalize cloud-native architecture.
Only Cloudera delivers:
Multi-function analytics on a unified platform that eliminate silos and speed the discovery of data-driven insights

A shared data experience that applies consistent security, governance, and metadata

True hybrid capability with support for public cloud, multi-cloud, and on-premises deployments
Why Cloudera Enterprise Data Hub?
Cloudera delivers an integrated suite of analytic engines ranging from stream and batch data processing to data warehousing, operational database, and machine learning. Cloudera SDX applies consistent security and governance, enabling users to share and discover data for use across workloads. Fueled by open-source innovation, Cloudera's data platforms deliver ultimate flexibility so you can focus on your data, your applications, and your business.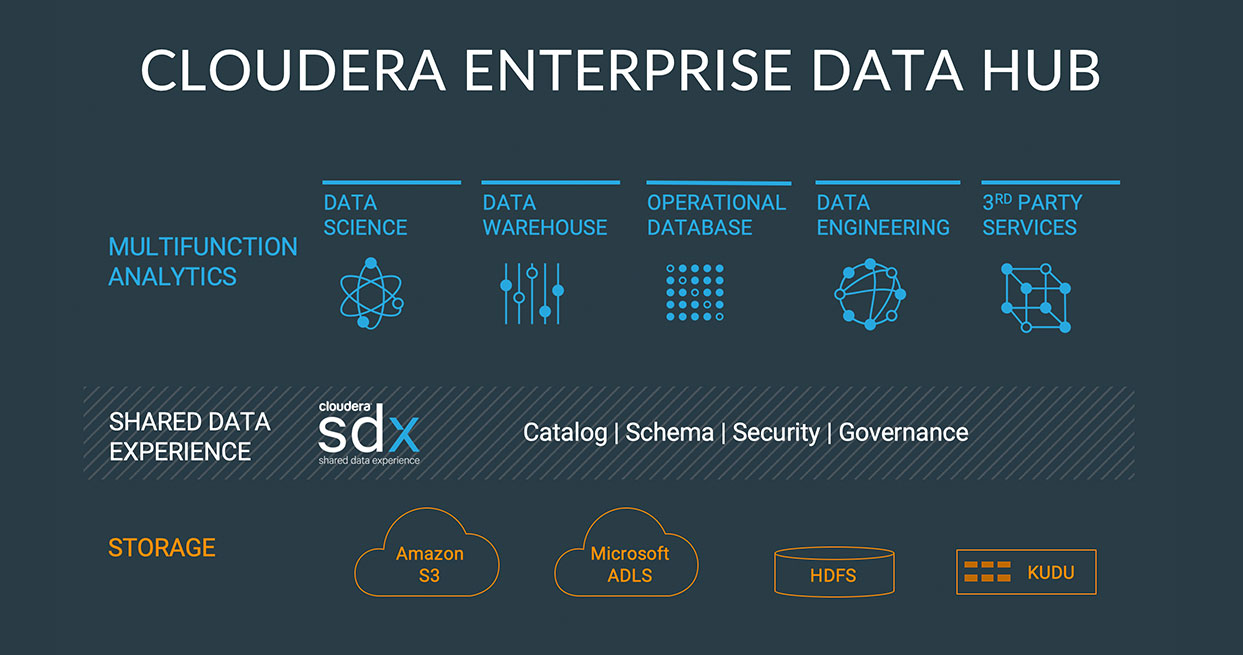 What's new in Cloudera Enterprise 6?
Cloudera Enterprise 6 provides a major upgrade to our modern platform for machine learning and analytics optimized for the cloud. It includes significant advances in productivity and enterprise quality to maximize performance and minimize total cost of ownership (TCO). The latest version of Cloudera Enterprise also provides a natural upgrade path to the upcoming Cloudera Data Platform, the industry's first enterprise data cloud. 
Powering data-driven use cases
Enterprise Data Hub supports a wide range of operational and analytical use cases across major industries.
Begin your digital transformation with confidence
Organizations need to build their business on data. In banking, data can be used to prevent financial crime. Manufacturing companies use data to improve operations and delight customers with better products. For insurers, data is used to better assess risk, and healthcare companies use data to predict epidemics and improve patient care. But collecting and extracting meaningful value from data is challenging, and there's no "one-size-fits-all" solution. 
Only an Enterprise Data Cloud delivers:
What is in Cloudera Enterprise Data Hub?
Experience your data. Your way.
Tackling complex data-driven problems requires analytics working in concert, not isolation. Cloudera SDX combines enterprise-grade centralized security, governance, and management capabilities with shared metadata and data catalog, eliminating costly data silos, preventing lock-in to proprietary formats, and eradicating resource contention. Now all users and administrators can enjoy the advantages of a shared data experience.
Powering the data-driven enterprise