Fast Forward Labs Research now available without a subscription
Moving forward, all new reports will be publicly available and free to download. In addition, we will be providing access to updated versions of older reports over time, so check back often to explore available free research.
Your data nerd best friends
Despite its promise, machine learning can be downright daunting. Best efforts can be quickly undermined by uncertainty about a rapidly changing technical landscape, bewilderment on how best to build and organize teams, and difficulty separating hype from reality. 
Free up executives and data science teams to focus on the future of the business with a virtual dedicated research staff that continually monitors the latest techniques and industry best practices, determining how best to apply them to your difficult business problems.
Cloudera Fast Forward Labs Research focuses on emerging trends that are still changing due to algorithmic breakthrough, hardware breakthrough, technological commoditization, and data availability. Accompanying the reports are working prototypes that exhibit the capabilities of the algorithm and offer detailed technical advice on its practical application.
What's in a research report?
A Cloudera Fast Forward Labs research report opens up new use cases for your data and delivers a vital head start through:
Research reports, which focus on different emerging data and machine learning-enabled capabilities that will be relevant in a six-month to two-year timeframe

A prototype demonstrating its application
In addition, you can subscribe to our newsletter for updates on new research and developments in the field.
Inferring Concept Drift Without Labeled Data
Concept drift occurs when the statistical properties of a target domain change over time causing model performance to degrade. Drift detection is generally achieved by monitoring a performance metric of interest and triggering a retraining pipeline when that metric falls below some designated threshold. However, this approach assumes ample labeled data is available at prediction time - an unrealistic constraint for many production systems. In this report, we explore various approaches for dealing with concept drift when labeled data is not readily accessible.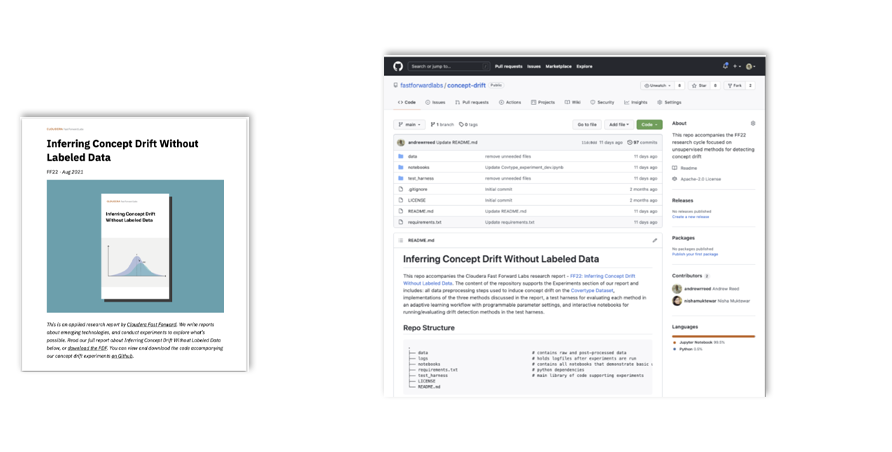 Exploring Multi-Objective Hyperparameter Optimization
We develop machine learning models against the "usual suspect" metrics like predictive accuracy, recall, and precision. However, these metrics are rarely truly all we care about. Production models must also satisfy physical requirements such as latency or memory footprint, or fairness constraints. Hyperparameter optimization becomes even more challenging when we have multiple metrics to optimize. Our latest research examines this "multi-objective" hyperparameter optimization scenario in detail.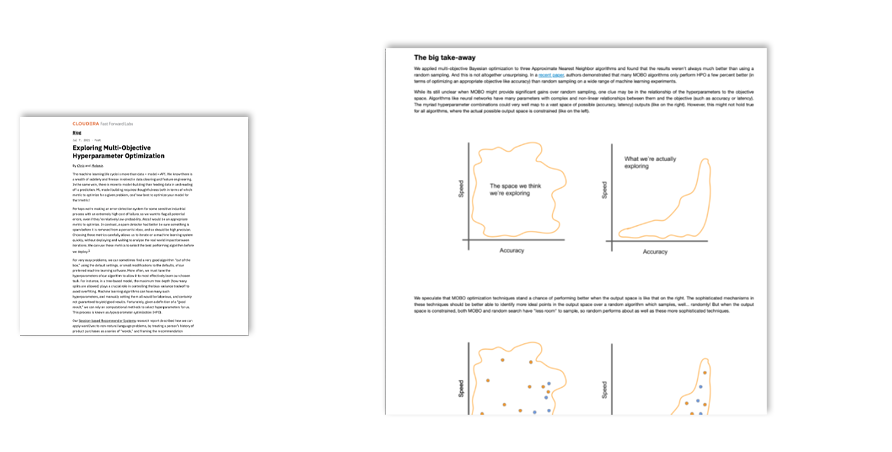 Cloudera Machine Learning Advisory Services
Understand where to focus valuable resources, how to implement effective practices, and how to expedite moving from development to production while avoiding technical dead ends.
The Fast Forward Labs Blog
Keep up with tomorrow
Sign up for our monthly newsletter and get the latest on advances in applied artificial intelligence, as well as company news and events.