Have a messy data challenge? We have you covered.
Cloudera Data Platform delivers the world's only open data lakehouse with integrated end-to-end tooling to quickly deliver business impact, from any data, anywhere.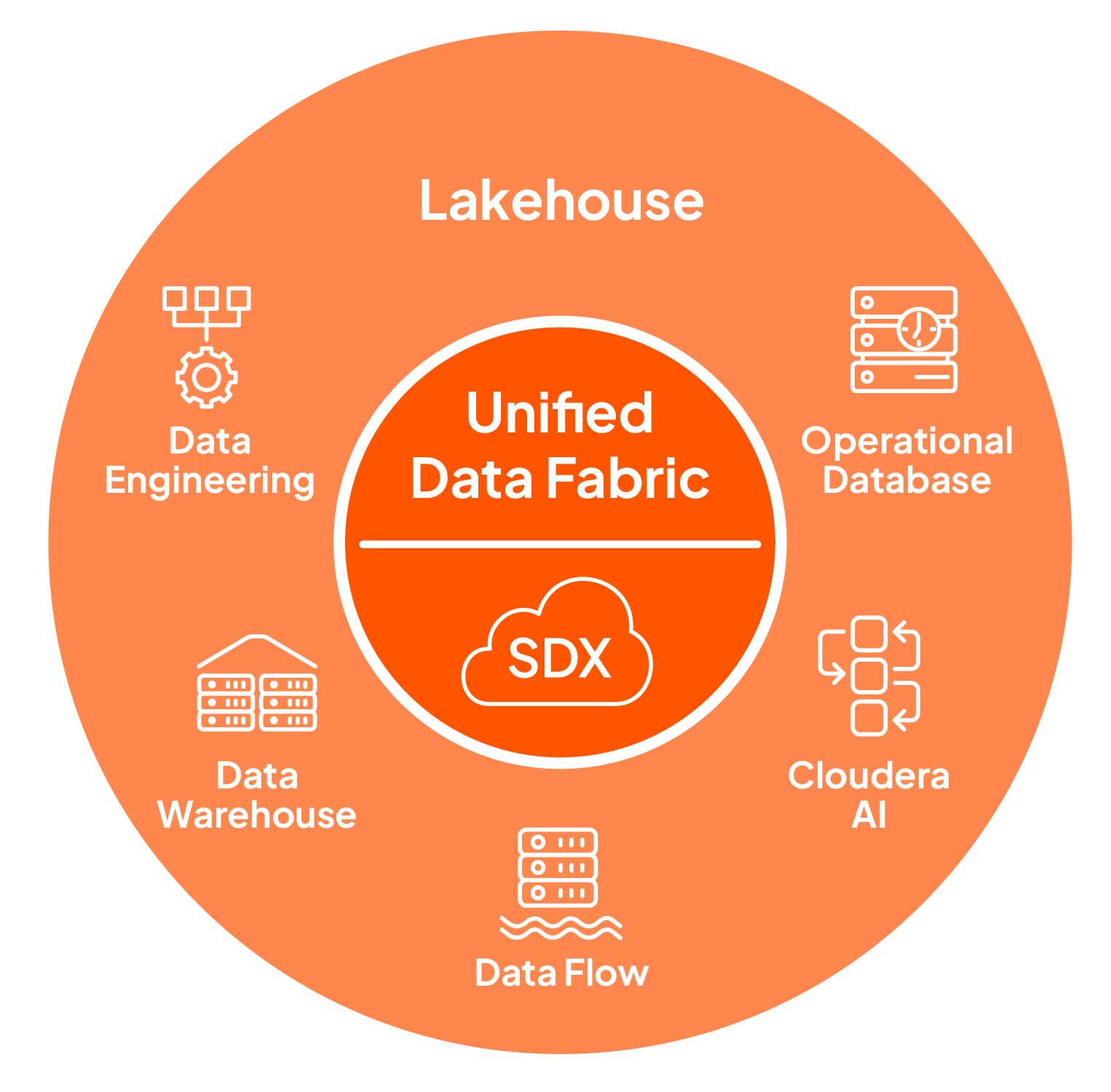 Enable all your teams to collaborate with state-of-the-art tooling across the data lifecycle.
Access, process, and distribute any data with no proprietary formats, lock-in, or silos—without writing code
From advanced analytics to AI, eliminate any hurdles and deliver any data use case quickly and accurately
Streamline operations with zero software lock in, and easily integrate with any system across your business
Get the data you need, wherever you need it
Cloudera DataFlow accelerates the first mile of any data project across any system.
Use 450+ agnostic connectors to seamlessly deliver any data with any structure from any data source to any destination.
Get data to analysts and data scientists  faster by eliminating unidirectional ingest streams and avoiding costly data lock-in.
Build and automate complex data flows across multiple tools and storage systems with an Apache Nifi-powered drag-and-drop interface.
Supercharge your data workflows to drive business impact
From data ingestions to data engineering to data science and beyond, CDP lets you deliver more trusted analytic and AI projects faster than ever before.
CDP enables the complete ML lifecycle on an open data lakehouse, which lets data science teams collaborate easily and deliver explainable AI apps quickly.
Applied ML Prototypes (AMPs) are fully packaged and complete AI apps for your business. Just add data and start powering predictive decision making instantly.
Your business demands real-time analytics from all your data instantly. Deliver, with analytic dashboards and custom apps requiring zero coding.
An open data lakehouse powered by Apache Iceberg lets all your analytic and AI apps leverage structured and unstructured data without workarounds.
The future is hybrid. So is Cloudera Data Platform.
Reduce friction and deliver tooling as required by the business.
CDP Public Cloud

CDP Private Cloud
CDP Public Cloud
Create and manage secure data lakes, self-service analytics, and machine learning services without installing and managing the data platform software. CDP Public Cloud services are managed by Cloudera, but unlike other public cloud services, your data will always remain under your control in your VPC. CDP runs on AWS, Azure and Google Cloud.
CDP Public Cloud lets you:
Control cloud costs by automatically spinning up workloads when needed and suspending their operation when complete 
Isolate and control workloads based on user type, workload type, and workload priority
Combat proliferating silos and centrally control customer and operational data across multi-cloud and hybrid environments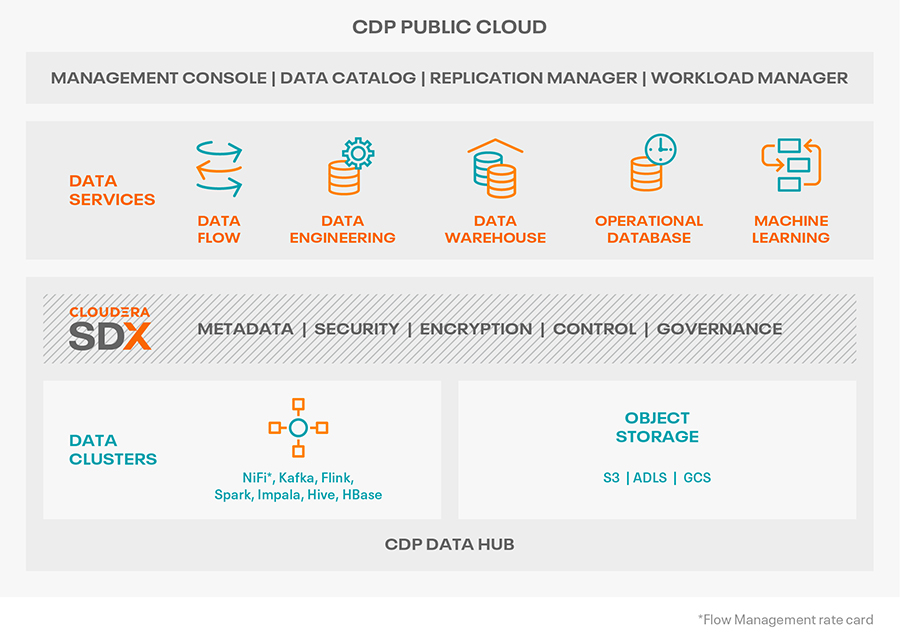 CDP Private Cloud
CDP Private Cloud delivers powerful analytic, transactional, and machine learning workloads in a hybrid data platform. With a choice of traditional as well as elastic analytics and scalable object storage, CDP Private Cloud modernizes traditional monolithic cluster deployments in a powerful and efficient platform. 
CDP Private Cloud provides the first step for data center customers toward true data and workload mobility, managed from a single pane of glass with consistent data security and governance.
With CDP Private Cloud, organizations benefit from:
Rapid time to value through simplified provisioning of easy-to-use, self-service analytics in minutes rather than days
Improved cost efficiency with optimized resource utilization and the decoupling of compute and storage
Predictable performance thanks to workload isolation and perfectly managed multi-tenancy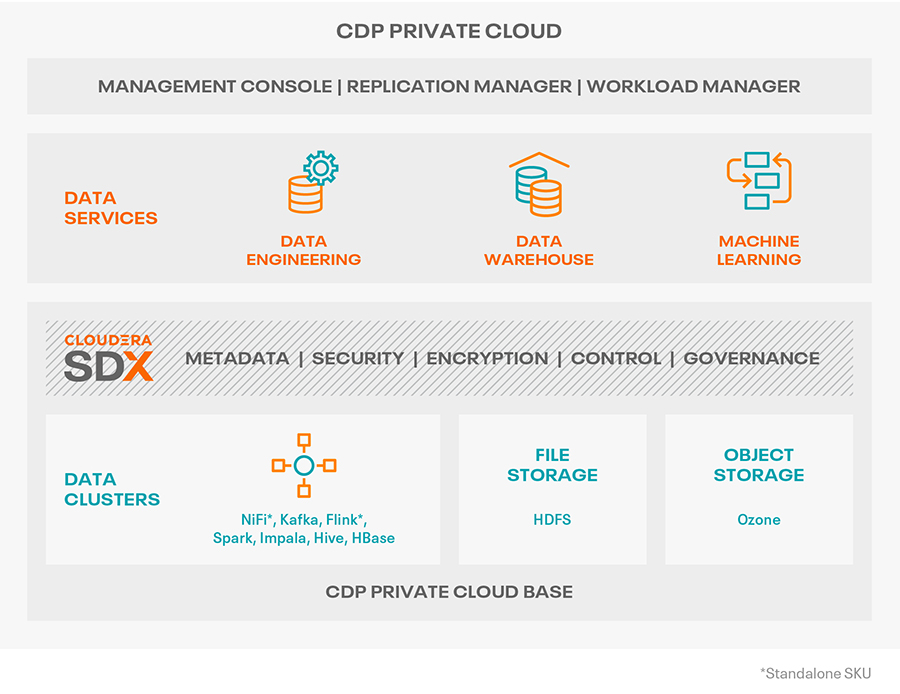 Rahul Agarkar | Thursday, November 09, 2023
Saketa Chandra Chalamchala | Tuesday, November 07, 2023
Abhas Ricky | Wednesday, November 01, 2023
Documentation
Set yourself up for success
Cloudera Data Platform streamlines enterprise ML—but Cloudera's documentation will never cut corners. Check out the
library of technical documentation
, guides, and best practices for an idea of what's possible with CDP, step by step.
Ready to get started?
Let's connect.