Gain control of the data from edge devices with real-time edge data collection and processing.
Cloudera Edge Management (CEM) is an edge management solution made up of edge agents and an edge management hub. It manages, controls and monitors edge agents to collect data from edge devices and push intelligence back to the edge. 
CEM consists of two components:
MiNifi: A lightweight edge agent that implements the core features of Apache NiFi, focusing on data collection and processing at the edge
Edge Flow Manager (EFM): An agent management hub that supports a graphical flow-based programming model to develop, deploy, and monitor edge flows on thousands of MiNiFi agents
CEM is part of Cloudera DataFlow
Cloudera Edge Management is a key part of the Cloudera DataFlow (CDF) platform. While CDF enables the edge-to-enterprise journey for streaming data, CEM ensures that data from any type of edge device can be captured, processed, scored locally using Machine Learning (ML) models and can be streamed into the enterprise securely.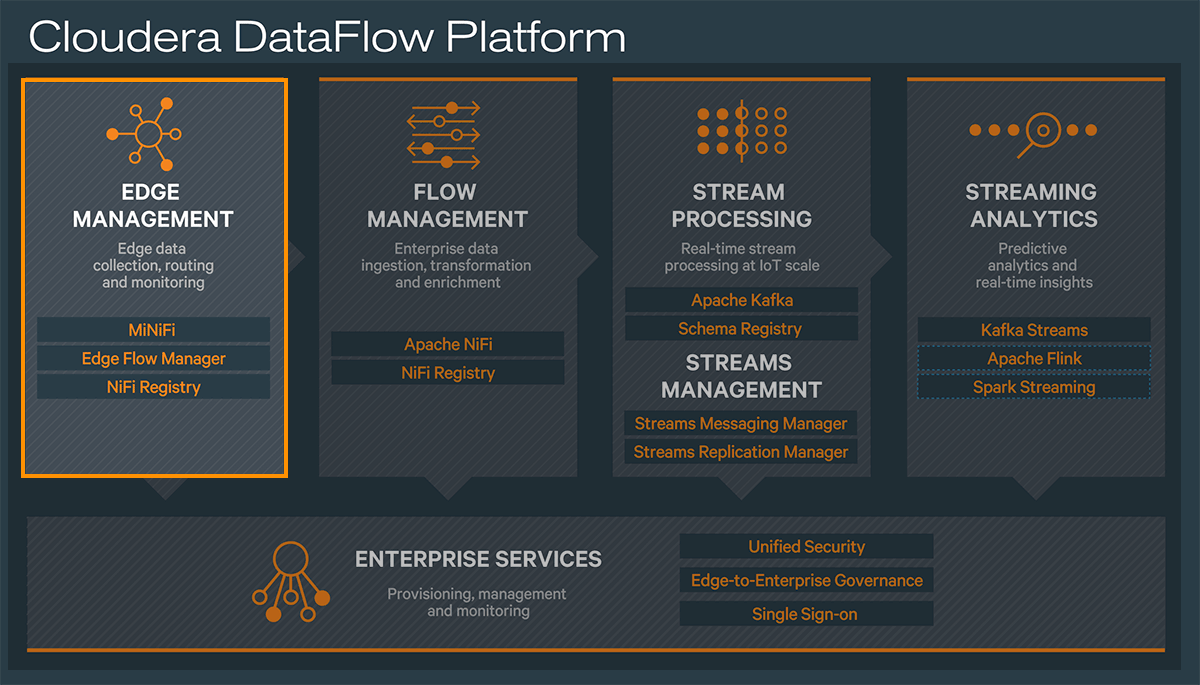 Lower IoT application development costs
Leverage Edge Flow Manager's NiFi-like graphical user interface for designing IoT data flows with no code

Drag-and-drop hundreds of out-of-the-box processors to build data flows for edge data collection and processing

Integrate seamlessly with other CDF components like Kafka and NiFi to implement true Edge2AI solutions
Reduced operational challenges on the edge
Control, manage and monitor thousands of agents across your IoT implementation

Define specific classes of agents for better manageability in larger implementations

Push data flow or ML model updates over the air (OTA) to specific classes of agents from Edge Flow Manage

r
Easier edge data collection & processing
Experience connectivity, data acquisition, and processing at the edge with lightweight MiNiFi agents running in or near edge devices

Gain real-time access to edge data from MiNiFi with its tight integration with NiFi and Kafka

Continue ingesting and processing data while offline or in undependable networks
Fewer edge-to-enterprise round-trips
Execute ML models at the edge as MiNiFi supports TensorFlow and Edge Flow Manager supports deploying ML model files to the edge

Enable local data scoring using ML models at the edge to push only refined data back to the enterprise

Build sophisticated processing logic using edge flow files that can use hundreds of prebuilt processors to pic

k and push only data that matters