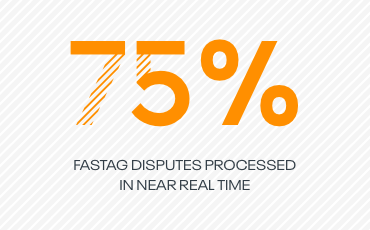 Key Highlights
Category
Financial Services, Banking
Location
Headquarters: Mumbai, India
Solution highlights
Modern Data Platform: Cloudera Enterprise
Workloads: Data Science & Engineering
Key Components:  Apache Spark, HIVE, Python, Apache Impala
Data Science Algorithms : New age computer vision algorithms, Deep learning,
BI & Analytics Tools: Tableau, SAS tools, Informatica BDM
Applications supported
Real-time business intelligence
Credit risk management
Fraud Monitoring
Personalized upselling/ cross-selling
Customer analytics insights
Analytics as  a Service – Rest API base calls
Data sources
Oracle Exadata EDW
SQL Server
PostgreSQL
Kafka Topics
Impact
Ability to process unstructured data and deploy deep learning models
Advanced risk analytics to more accurately assess credit risk and identify early warning signs for potential delinquencies
Enables fraud monitoring in real time
100 GB data ingested daily
Axis Bank is a leading private sector bank in India with over 20 million customers and more than 4,000 branches across the country.
Axis Bank processes 75% of the FasTag disputes from the toll plazas in near real time with AI algorithms and Cloudera
Challenge
"With a 50 percent increase in data generated year on year, the challenge we faced was in deriving desired value from these unstructured data and delivering real-time insights across major business units of the bank", said Balaji Narayanamurthy, President at Axis Bank. "We would have to fundamentally rethink and modernize our existing data platform so that we could deliver these use cases to benefit various internal stakeholders."
Axis Bank sought to leverage both traditional structured data and unstructured data, including but not limited to audio, video, and text in order to solve real world problems. The bank was looking for a way to manage risk and improve operational efficiency. However, traditional data platforms couldn't support the growing volume and variety of data, or provide real time responses needed to improve organizational efficiency.
Solution
Axis Bank uses Cloudera to better analyze operations and predict customer behavior across its retail and commercial business units, including savings, lending, investment, and exchange services. The Cloudera EDH cluster currently integrates and analyzes 750 TB of data coming in from several sources in Axis Bank's systems like Oracle Exadata ED etc.
The bank has currently deployed a wide range of use cases, including:
Analyze images from toll plazas to accept or reject the dispute
Text analytics that create AML news alerts to help staff identify potential money laundering cases and linkages
Micro-market analytics to optimize the number and placement of its branches
Advanced risk analytics to more accurately assess credit risk and identify early warning signs for potential delinquencies so staff can intervene and take targeted actions before it occurs
Customer engagement—detailed understandings of customer lifecycle, lifestyle, spending, and engagement with the bank and other financial institutions—to enable greater personalization and improve customer campaigns and offers
Analytics as a Service – Microservice architecture
Data mart buildings
"Since deploying Cloudera's platform, we can analyze almost 40-50 percent more data than before, and have a deeper understanding of our business needs. It is now faster to run analysis on this data which earlier required a huge cycle time to offload, process and perform analytics. We are now able to better manage customers' risk, personalize our offerings, and optimize our operational processes," said Narayanamurthy. "This enables us to push the envelope continuously by creating maximum impact for our customer and help us serve them better."
With the implementation of its new modern data platform, Axis Bank executives are better placed to assess the use cases that should be deployed on-premise and in the cloud. "We believe in adopting a solution that will give us both scalability and flexibility," said Narayanamurthy. "Cloudera offers this flexibility with a multi-cloud, hybrid cloud solution to use cases which allows us to generate additional compute power as and when required. It also keeps our costs in check by reducing the compute power as per current requirement."
Results
Operational efficiency is one of the many areas the bank has improved performance through greater insight. "Our data-driven approach to solve problems has enabled us to maintain costs as against industry levels," said Narayanamurthy. "With Cloudera, we can now demonstrate capabilities on the unstructured data and simultaneously drive more value from structured data."
Improved targeting has further helped the bank expand its business. "We've seen an improvement in cross-selling of products to our existing client base in a personalized manner"