Benchmark Results Show Jointly Developed Solution Enables Machine Learning with Larger Data Sets in Less Time and With Less Hardware
PALO ALTO, Calif., – February 8, 2017 – Cloudera, the global provider of the fastest, easiest, and most secure data management, analytics and machine learning platform built on the latest open source technologies, today announced a jointly tested solution with Intel to advance capabilities for machine learning (ML) and artificial intelligence (AI) workloads. Benchmark tests on Cloudera with Apache Spark and the newly released Intel® Math Kernel Library (Intel® MKL), demonstrate the combined offering can advance machine learning performance over large data sets in less time and with less hardware.  This helps organizations accelerate their investments in next generation predictive analytics.
Cloudera is the leader in Apache Spark development, training, and services. Apache Spark is advancing the art of machine learning on distributed systems with familiar tools that deliver at impressive scale. By joining forces, Cloudera and Intel are furthering a joint mission of excellence in big data management in the pursuit of better outcomes by making machine learning smarter and easier to implement. By combining Spark, Intel® MKL libraries, and Intel's optimized CPU architecture machine learning workloads can scale quickly. As machine learning solutions get access to more data they can provide better accuracy in delivering predictive maintenance, recommendation engines, proactive healthcare and monitoring, and risk and fraud detection.
"There's a growing urgency to implement more rich machine learning models to explore and solve the most pressing business problems and to impact society in a more meaningful way," said Amr Awadallah, chief technical officer of Cloudera. "Already among our user base, machine learning is an increasingly common practice. In fact, in a recent adoption survey over 30% of respondents indicated they are leveraging Spark for machine learning. With constant advancements to Spark, and now through our collaboration with Intel to tap into Intel® MKL, we're confident Cloudera will continue to lead the market in advancing the use of Apache Spark for machine learning across every industry."
Benchmark results released today, comparing the jointly developed solution to both OpenBLAS and F2J BLAS, prove Cloudera and Intel have surpassed the leading hardware acceleration libraries in every iteration of the tests—providing more actionable performance with less investment in infrastructure.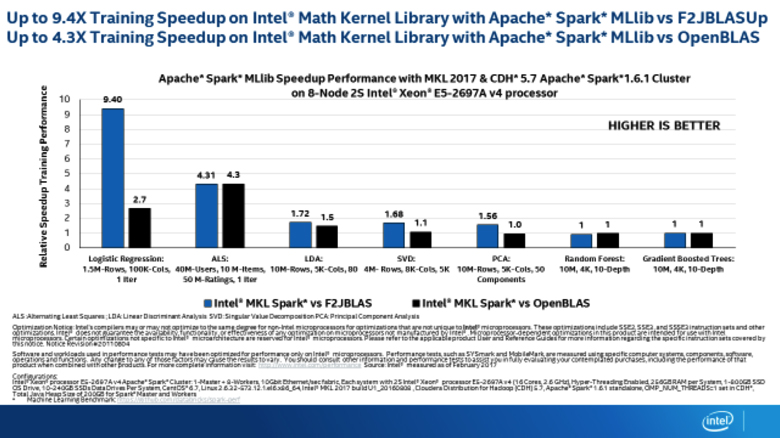 Machine learning helps Cloudera's customers meet the demands of predictions on much larger data sets. Transamerica, for instance, uses Cloudera to test and validate data models at a much faster scale.
"As long-term business collaborators invested in each other's technology, expanding our efforts in AI  was a logical step. Collectively, we see the future potential in AI as untapped, despite massive leaps in technology and growing implementation in recent years," said Michael Greene, vice president and general manager of the System Technologies and Optimization in Software Services Group, Intel Corporation. "Together Cloudera, Intel and our ecosystem will unleash the power of AI to be faster, more expansive, and smarter from the beginning."
Read more about the benchmark.
About Cloudera
Cloudera delivers the modern data management and analytics platform built on Apache Hadoop and the latest open source technologies. The world's leading organizations trust Cloudera to help solve their most challenging business problems with Cloudera Enterprise, the fastest, easiest and most secure data platform available for the modern world. Our customers efficiently capture, store, process and analyze vast amounts of data, empowering them to use advanced analytics to drive business decisions quickly, flexibly and at lower cost than has been possible before. To ensure our customers are successful, we offer comprehensive support, training and professional services. Learn more at cloudera.com.
Connect with Cloudera
Read our blogs: https://blog.cloudera.com/
Follow us on Twitter: twitter.com/cloudera
Visit us on Facebook: facebook.com/cloudera
Join the Cloudera Community: community.cloudera.com
Cloudera, Hue and associated marks and trademarks or registered trademarks of Cloudera Inc. All other company and product names may be trademarks of their respective owners.