CDP Certification Program
Cloudera CDP Certification provides the benchmark in verifying your proficiency with Cloudera Data Platform. Each role-based CDP exam assesses your knowledge and skills in working with the platform, from system administration to solution development to data analysis and more. CDP certification exams are question-based and proctored securely online, and earned credentials are awarded with digital badges that can be socialized on professional forums.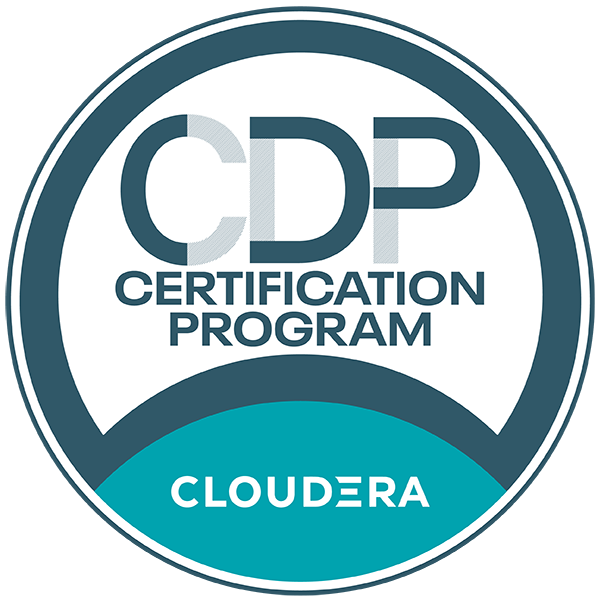 Certification
Description
Purchase
CDP Generalist

The exam tests general, broad knowledge of the Cloudera CDP platform. Unlike other CDP Certification Program role-based exams, this exam is applicable to multiple roles. Whether an experienced professional, or just starting an enterprise data career, this exam allows candidates to demonstrate their broad understanding of the Cloudera CDP platform.

Purchase
CDP Administrator - Private Cloud Base
The exam tests the skills and knowledge required by system administrators to successfully manage and maintain the Cloudera Data Platform - Private Cloud Base. The exam test an administrators skills and knowledge to install and configure CDP Private Cloud Base, connect and manage data sources, manage users, monitor and troubleshoot the platform, and manage data security and governance.
Purchase
CDP Data Developer
The exam tests the skills and knowledge required by data developer to create applications and data pipelines in Cloudera Data Platform.
CDP Data Analyst
This CDP Data Analyst exam tests the required Cloudera skills and knowledge required for data analysts to be successful in their role. The exam tests the use of Cloudera products such as Cloudera Data Visualization, Cloudera Machine Learning, Cloudera Data Science Workbench, Cloudera Data Warehouseas well as SQL, Apache Nifi, Apache Hive and other open source technologies.
NOTE: Although the exam is currently in beta (meaning that there may be some small edits made to the content) the exam allows you to earn your certification if you pass.
Purchase
Planned exams
Additional exams to be released include:
 
CDP Certified Administrator - Public Cloud
CDP Certified Data Analyst
CDH & HDP Certification Programs
The Cloudera Certified Professional (CCP) and Cloudera Certified Associate (CCA) exams have been retired and are no longer available.