Overview
Enable your entire IT ecosystem with more advanced threat detection and prevention analytics
The threat landscape is changing rapidly. As the number of edge devices expands, the volume and variety of touchpoints into your network is making the number of entry points for potential malicious activity much higher.

Cloudera's cybersecurity solution, based on an open, scalable platform, enables deployment of cyber defense solutions from the Edge to AI that incorporates both your existing packaged applications as well as proprietary capabilities on top of one shared, rich data set.
The modern backbone of enterprise security defense networks
Easily detect and defend against threats when you have both streaming and historical data in a single common instance
Run your security operations center more reliably with better threat insights and without fear of risk or increased cost:
Seamlessly automate and mitigate  any imminent threats
Identify potential threats and gain better insights into new, alternative sources or environments 

Take advantage of any source without sacrificing governance and security
Use lower cost consumption and storage models without fear of any runaway costs
Read the Reducing risk in cybersecurity, fraud, and regulatory compliance whitepaper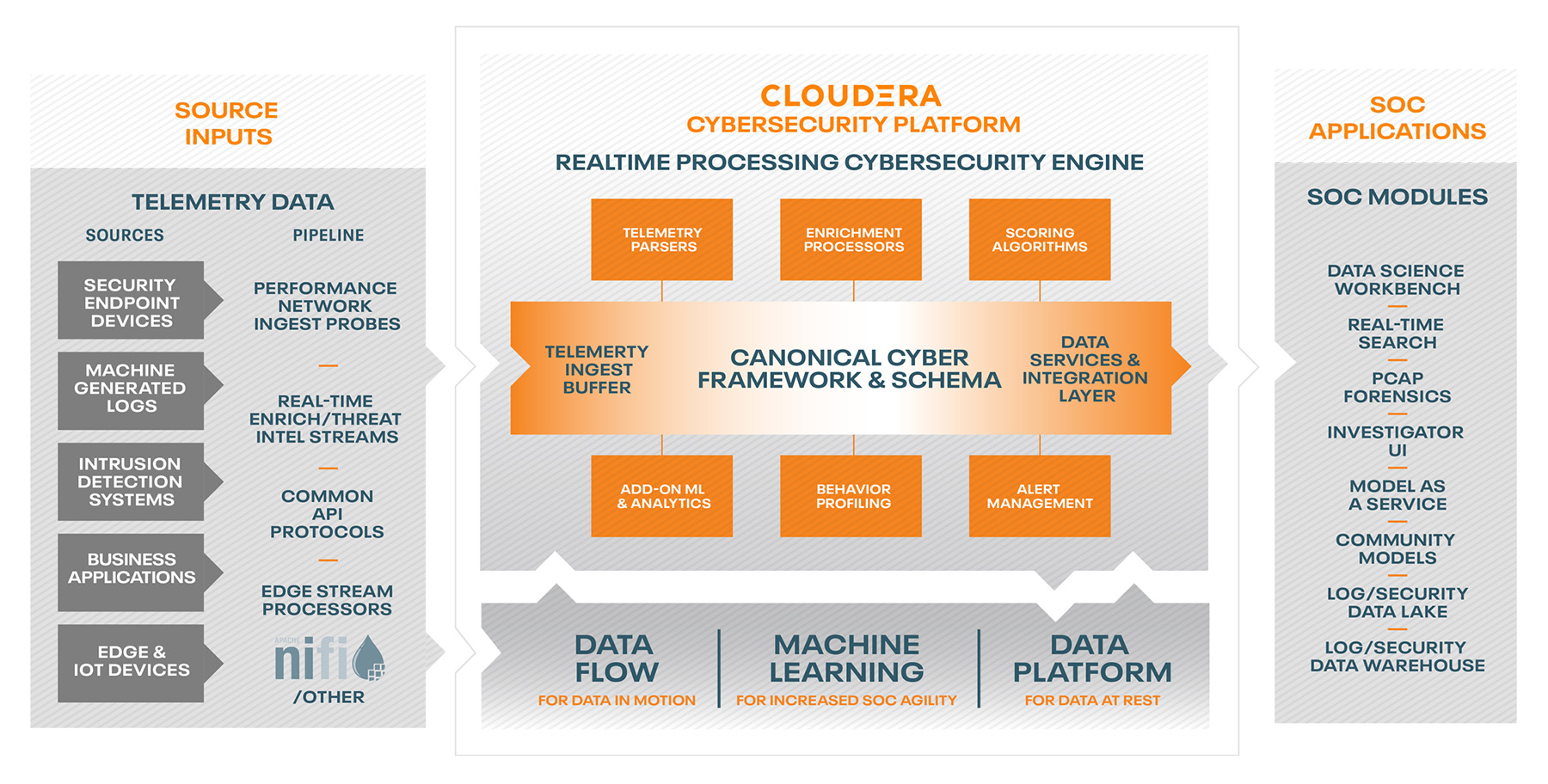 CCP's standardized data model recognizes and aggregates any log format into a common structure for a more easily readable analysis of both streaming and stored data. The resulting ability to detect cyber anomalies at scale lets you respond faster to identified and potential threats. This includes telemetry data from machine and IoT device logs; security endpoint services; intrusion detection systems and network & threat; intel feed source agents; and traditional enterprise ERP, SCM, CRM, and HCM applications.
It doesn't matter where the data is, where it is coming from or where it is going. It can be your own data center, a co-location provider, a cloud service or cloud provider, or any combination. CCP can ingest, process and store to a common environment for faster, more comprehensive analysis and mitigation tasks.
Benefit from Cloudera's legendary history in producing consistent high performance, along with its scalability and reliability against the highest volumes. Also avail the variety and velocity of data that every SOC struggles with due to the expanding and changing ecosystem requirements that are needed to properly protect and defend environments - and all this at lower costs.
CCP's cyber-specific capabilities in concert with Cloudera's proven open-source high PSR platform lets you leverage the latest in both real-time and time-series threat analysis and response protocols, while retaining the ability to both deploy packaged applications and build custom solutions specific to your business needs. All on top of one shared, enriched, and secure data set, increasing threat visibility while reducing your SIEM workload management tasks and overall TCO.
Deploy trusted or experimental machine learning models to your threat detection activities faster by bringing these tools directly to the data. Either against streaming data in real-time or on stored historical data for advanced threat hunting and mitigation. Either on-premises or in the cloud. Using a choice of languages including Python, R, or Scala directly from the web browser, CCP in concert with our ML services delivers a rich, self-service experience for both data scientists and threat hunters. 
Advanced APT hunting

Covering the edge. Now.

Unified view of multiple sources
Faster APT hunting
Advanced persistent threat (APT) is one of the most insidious cyber threats today. Intruders may linger for years before attacking with devastating consequences such as theft of intellectual property, and personally identifiable information.
CCP enables you to keep your historical logs longer at a lower TCO. This provides the ability to deploy ML and analytics over longer timeframes to detect abnormal behaviors across endpoints, users, and networks. This results in an increased ability to identify and cut off potential APTs before they strike.
Covering the edge. Now. 
Analyze larger amounts and different types of event data. Not just the typical data originating from machine logs, but additionally sensors, and other devices that connect at the edge of your network. The real-time analysis of these very large data sets, that constantly need to scale, typically cannot be done effectively or cost-efficiently in traditional SOC or SIEM infrastructures. CCP harnesses the power of highly scalable engines to tackle massive volumes of fast-moving data. By adding Cloudera DataFlow, you can harness the same power to cover the edge.
Unified view of multiple sources
Increase agility and effectiveness of your existing cybersecurity investments by adding the ability to store and access large volumes of diverse information from multiple sources of any type for analysis more affordably. This enables you to focus more on exploration and discovery of new correlations, patterns, and insights on potential future threats, and less on tackling the hard problems of analyzing across textual and relational data, sifting through vast amounts of unstructured data and correlating them with relational data to find potential new threat anomalies. 
World-class training, support & services
Lean on our experts to help you build real-world solutions.
Learn, share and indulge in our community
Dive deeply into Cloudera products
Download your favorite products