Showcasing your success with data
This annual event recognizes the best of the best organizations, like yours, running the Cloudera platform, and your innovations. We showcase the impact your projects are having within your organization, on your business' bottom line, and on the world.
2018 Winners were announced at a celebration event on September 11, 2018, during the week of Strata Data Conference in New York. Organizations were nominated by their employees or by partners, vendors, or peers, with nominee consent.
The winning organizations' implementations demonstrate outstanding objectives in their mission, technical advancement, and overall impact.
Your 2018 winners
Commonwealth Bank of Australia worked with Cloudera to implement a modern data platform with an AI-powered customer decisioning layer that dramatically improves how the bank interacts with its customers. The bank brought together 27 billion data points and uses AI to understand the next-best conversation 21 million times each weekday. The bank coordinates all interactions via its branch network and Australian-based contact centers and presents it back through digital channels, ATMs, email and direct mail. It helps facilitate interactions as simple as helping a customer complete an application or update their contact details, for which CBA has completed 200,000 in the past year.
Voya Financial prevented millions of dollars of fraudulent transactions by deploying predictive analytic capabilities on Cloudera. Seeing an increase in account takeover fraud attempts across the industry, Voya Financial's digital and security teams collaborated to better monitor and prevent fraudulent attempts on customer funds. Using a modern data platform from Cloudera and partner solutions from AtScale, Cognizant, Collibra, Experian, Oracle, Real-Time Technology, StreamSets, and Syncsort, Voya improved the speed, performance, and quality of fraud analytics—reducing its risk for a wide variety of fraud including account takeovers, application fraud, claim fraud, rebating, theft, and overbilling and kickbacks.
Connect Products and Services
Toshiba Memory Corporation
Toshiba Memory Corporation is revolutionizing flash memory semiconductor manufacturing using Cloudera to detect defective parts earlier in the manufacturing process and identify the root cause of defects several times faster. In the semiconductor industry, increasing the yield rate is critical because a mere one percent improvement can result in significant cost reductions. Toshiba Memory's ability to apply machine learning on petabytes of sensor and apparatus data enabled detection of small defects and inspection of all products instead of a sampling inspection.  This helps Toshiba Memory increase product quality and continue to deliver high-quality products to its customers.
Enterprise Machine Learning
AbbVie
AbbVie, one of the world's largest global research and development pharmaceutical companies, established a big data platform to provide end-to-end operations visibility, agility, and responsiveness. AbbVie's platform uses analytics and machine learning, including natural language processing, deep learning, and unsupervised learning, to proactively identify issues and opportunities. Some of the company's use cases include responding to demand variability, improving pharmaceutical product performance, creating a more insightful search capability, and detecting temperature anomalies during shipments. Connecting internal, external and unconventional data (such as sensor and video data) helps the organization create an end-to-end product performance strategy, while common governance and security enable self-service capabilities for business users.
Barclays' data warehouse ingests data from more than 300 sources and runs thousands of jobs daily. With its warehouse transformation initiative, Barclays is using Cloudera to bring near-real-time data feeds into its warehouse. As a result, Barclays can now make instant decisions on customer offers, down from 14 days. It also gained real-time status on all branches and ATMs in the UK and expanded fraud monitoring to include billions of transactions.
FairVentures Lab (nominated by Cazena)
FairVentures' cloud-based Data Lab enables analytic teams across its affiliate companies to test, model, and collaborate on analytic use cases—no small feat in a complicated, multi-national, and highly-regulated financial corporation. FairVentures' Data Lab improves data access and availability to drive innovation and analytic discoveries by actuaries and data scientists. The speed of deployment, SaaS-like usability, and powerful features made the Data Lab an overnight success in an industry used to slow-moving, multi-month projects. And business leaders report that Data Lab capabilities help them recruit new analytics and data science talent, critical in an industry with an aging workforce that is heading for retirement. The lab uses Cloudera running on Cazena's Fully-Managed Big Data as a Service on Amazon Web Services (AWS).
Carrefour Spain
Retailer Carrefour Spain gained a 360-degree customer view and can now manage stock in real time using a modern data platform from Cloudera to power a variety of workloads.  In just 12 months, Carrefour Spain obtained self-service analytic capabilities that enable business users to more quickly calculate sales indicators and monetize data. The company can also minimize the gap between model development and automation, detect stock mismatches between systems in real time, more quickly detect point-of-sale anomalies, and identify customer propensity to particular products to optimize coupon issuance and redemption.
Greentube is transforming the gamer experience using Cloudera on Microsoft Azure to bring together and analyze user behavior in real time for more targeted campaigns, recommendations, and personalized gaming experiences. Previously, Greentube faced numerous constraints created by data silos and lack of real-time analytic capabilities. Now, the company's Marketing and Fraud teams are capturing insight they couldn't before. This insight led to over €1 million in incremental revenue through subscription upgrades from targeted in-game offers, a two percent revenue increase from game recommendations in one cohort, and a 20 percent load reduction, which reduced operational costs, with detection and resolution of a bot network playing on one casino platform in demo mode.
ADP has an unmatched dataset on the U.S. workforce. Teaming with Cloudera, it's using data science, machine learning, and AI in new ways to help employers close the pay equity gap. According to the ADP Research Institute, on average, men make 28 percent more than women across all industries. Within the financial services and healthcare fields, or when you consider race, the difference is even more pronounced. Leveraging Cloudera, ADP can give employers unique insight into their workforce to identify where pay gaps potentially exist. And, drawing from anonymized data from over 30 million employees, they can help employers ensure that compensation is not only equitable but competitive.
IQVIA, The Human Data Science Company, is using big data and advanced analytics to revolutionize clinical research and positively impact the lives of millions of people.  While much work is being done worldwide to reduce healthcare costs, improve access to care, and deliver new treatments, the progress has been slow. IQVIA is re-envisioning healthcare using a data-driven approach. IQVIA's platform brings together more than 2PB of data from 250 data warehouses worldwide and, and with the help of Cloudera technologies, provides analytic insights that can drive dramatic change in healthcare—from helping pharmaceutical companies understand market need in seconds instead of hours or days, to enabling clinicians to identify qualified patients for clinical trials in minutes. It's giving patients earlier access to potentially lifesaving treatments, and helping reduce both drug costs and time to market to bring life-saving drugs to market faster and less expensively.
United Overseas Bank Group – UOB
United Overseas Bank (UOB) has a richer understanding of its customers' preferences and can make their banking experience simple, safer and reliable using technology. In harnessing emerging technologies such as artificial intelligence (AI) and machine learning, the bank is enhancing its operational performance. Working with Cloudera, UOB  developed a big data solution to give various groups in the Bank faster access to relevant and quality data for analyses. Different business functions, such as compliance and retail banking, can draw on the insights generated to optimize their business processes and design distinctive customer experiences.
Your 2018 finalists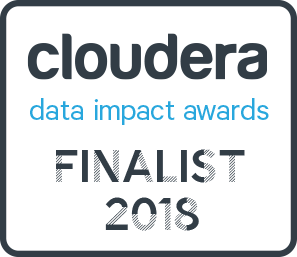 Connect Products and Services
Chesapeake Energy
Cielo (nominated by Zoomdata)
Komatsu Mining (nominated by Arcadia Data)
Toshiba Memory Corporation
Top 10 global healthcare company
Enterprise Machine Learning
AbbVie
Be The Match/Center for International Blood and Marrow Transplant Research (nominated by MetiStream)
Bell Canada (nominated by Arcadia Data)
GM Financial (nominated by BlueData)
Rookie of the Year 
Carrefour Spain
Granite Telecommunications
Lippo Digital
Sharp HealthCare (nominated by MetiStream)
Business Transformation
Arrowstreet Capital 
Celcom Axiata Berhad
Department of Homeland Security – Data Framework Program
Highlighting achievements in 9 categories
The 2018 Data Impact Awards recognize organizations' achievements with the Cloudera platform in nine categories within three overarching themes:
Business impact
This theme showcases projects that generate top-line growth, bottom-line savings, increased competitive advantage, and/or net-new revenue streams.
Grow your business
Implementing data solutions to grow a business or organization (revenue, customer, product line growth). This often includes identifying insights that deliver a more comprehensive view; better service delivery; data-driven marketing; improved loyalty and retention; and/or real-time, personalized recommendations. [1]
Connect products and services
Driving quantifiable results to an organization, company, or industry from connected products and services to apply insights to enable new capabilities or improve operational efficiencies from data generated by the Internet of Things (IoT) and connected devices and/or other data sources.
Protect your business
Deploying a Cloudera-based platform to reduce business risk by modernizing cybersecurity infrastructure, preventing fraud, modeling risk, managing data security, and/or meeting regulatory compliance with tangible results.
Technical impact
This theme showcases technical innovation and improved efficiencies that impact the wider organization and your customers.
Enterprise machine learning
Applying data science and machine learning to augment, improve, or automate human decision-making for better business and customer outcomes.
Modern data warehousing
Achieving a major effect on how analytics are used or available throughout the company and the business impact they have. [2]
Cloud success
Driving business innovation and agility and lowering TCO with a modern IT environment using Cloudera on public cloud infrastructure. [3]
Special impact
This theme captures unique use cases not represented above, including impact outside the business sphere as well as that driven by the newest Cloudera users.
Rookie of the year
Delivering the most impressive measurable results to make the impossible possible for an organization just starting its Cloudera journey in the past 12 months.
Societal impact
Positively impacting society, the planet, or humankind with a modern data platform.
"With more data, connectivity and automation, we are able to help organizations solve challenges in real time that weren't possible before. We expect this year's nominations and winners will invent disruptive technologies that will create new markets and enhance the way we live and work."

—Mick Hollison, CMO, Cloudera
Data Impact Award prizes
Prices valued at USD $5200. We recognize that some organizations will not allow acceptance of gifts or prizes, and thus neither will be provided where it violates applicable ethics rules. Winners will still receive recognition.
Judges
The winners for the Data Impact Awards are determined entirely by a panel of thought leaders in the data management and analytics space. Cloudera does not select or influence the selection of winners for any category. [7]
"The Data Impact Awards: This is the 'academy awards' of data solutions."


— Bob Gourley, founder Crucial Point and publisher, CTOvision.com
More details
Nominees must be on the Cloudera platform (typically CDH) running in a production environment to qualify. Nominees need not be paying Cloudera Enterprise customers.
Cloudera will treat data collected from you in accordance with the Cloudera privacy policy.
Upon nomination submission, nominees will be required to provide explicit consent for being nominated for a 2018 Data Impact Award and for sharing the information disclosed in their nomination with the 2018 Data Impact Award judges. The Data Impact Award judges will not publish information about any nominee or their use case information without explicit prior consent.
Cloudera reserves the right to contact nominees regarding publishing a written case study summary based on the information provided in the Data Impact Awards nomination form. We will not publish any named customer case study without explicit prior written permission.
If you have questions about the Data Impact Awards, please email ClouderaEngaged@cloudera.com.
Promotion open to nominees 18 years or older (or of majority under applicable law, whichever is older) who run Cloudera in a production data management environment. Entry deadline is 11:59 P.M. PDT on July 27, 2018. Nominee consent along with all answers and attachments are due by that time. Click here for Official Rules and more start/end date information. Winners will be selected by a group of judges chosen by Cloudera management. To enter, follow the directions above to complete the submission form by the entry deadline. Void where prohibited.
Footnotes
[1] Grow your business projects are often accomplished by eliminating data silos to access/share data of different types and providing a more comprehensive view of customers, patients, citizens, or other stakeholders.
[2] Modern data warehousing can be implementing new BI/SQL applications, migrating BI workloads from an EDW, replacing legacy data marts/warehouses or for net-new SQL applications/dashboards.
[3] Cloud applications that show significant innovation in a development or test environment may also be nominated.
[4] Business transformation is enabled by multiple disciplines spanning data science, data engineering, analytic and/or operational workloads.
[5] If the business transformation nomination also fits in another category, please submit for both.
[6] Enrollees will have access to the course and exercise environment (if applicable) for 180 days. Libraries are not included.
[7] Individual judges do not judge any category with nominations from organizations affiliated with the judge's organization or the judge.